So the idea of starting a new blog has been implanted in your brain for some reason say fame ,money or passion.Many blogger commit mistakes in their initial stage of blogging which wastes a lot of time and some times money.I have an experience of 3 months in the field of blogging.I committed many mistakes and wasted a lot of time in understanding the basics of blogging.Though i am not a professional blogger i would like to give tips for new bloggers who are planning to start a new blog.
10 Tips For New Bloggers Before Starting A New Blog
1.Which Platform to choose:-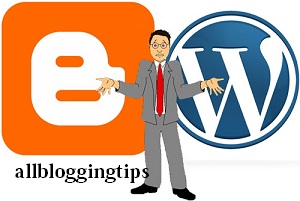 There are many platforms of blogging but the most famous platforms are blogger and WordPress.
Again in wordpress there are two types one is free and other is hosted one.
If you want to earn money from your blog or blog like a pro blogger then I would suggest you to go for wordpress with self hosting.
If you don't want to spend a single penny from your pocket on your blog and want something free then go for blogger.
2.Domain name:
If you are hosting on free blogger or wordpress then you will get a free sub domain as www.example.blogspot.com or www.example.wordpress.com.
But don't go for those sub domains.If you want to be a pro blogger then go for a good domain.Below are some tips before buying a new domain.
Try to include some keywords in your domain which matches with your blog niche for good search engine results.

Your domain should be short and appropriate

Blog Domain should attract the visitors and it should be easily memorable.

Avoid (-) in your blog domain to the best possible extent.
3.Blog design:
Your blog design should be simple and user friendly.It should attract your visitors.Go for a premium theme for a professional look
4.Content of your blog:-
Content is always the king.If you don't have good content then what all you do to decorate your blog goes waste.
5.Frequency of posting:-
Plan yourself how frequently you post and how often you update your blog.It may be 2 posts for 3 days or 4 posts per week plan according to your convenience.Plan posts for future to avoid delay.
6.Blog Promotion
Promote your blog on various forums and social networking sites. Now a days social networking site are playing a major role in success of a blog because now a days every one use social networking sites to connect with friends.So make use of social networking sites like facebook,twitter,google plus etc.
7. Maintain Good relation with your fellow bloggers
Commenting on other blogs and maintaining a good relation with your fellow bloggers always help you in building your blog.
8.Guest posting:-
Guest posting is a good way of building back links and drawing attention towards your blog.
9.Use Share,Follow and good RSS buttons:
Using cool share ,follow and RSS buttons attract your blog and increase the number of followers to your blog.So if there is an update they will come back to your blog once again,you can keep your readers intact with your blog.
10. SEO (Search Engine Optimization):-
Now this is the word which many newbies are afraid when they hear.SEO is nothing but a strategy of improving the visibility of a website or a web page in search engines like google, bing and yahoo.Do a little research on SEO to become a successful blogger.
 I hope these tips helped you in starting a successful blog.