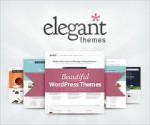 Coupon Code:
Looking for great, professional looking, elegant style wordpress themes? Elegant themes have it all. They provide great quality wordpress themes. Get 100% complete access to their entire collection of 87 themes for only $69!
Few features I like about elegant themes are:
Large collection of quality themes for a variety of uses, including blogs, businesses, eCommerce and apps.
The three membership plans on offers are reasonably and affordably priced.
The Members Area is easy to use with clear navigation.
Responsive design and clean interface
Optimized for search engine and enhanced user experience
Get 87 premium themes for just $69 only with Elegant themes.