Of all the major social media platforms, Facebook is currently leading with more than 800 million users. Every month, you can see more than 115 million new users being added to Facebook. Facebook is considered to be one of the largest social networking tool which can even be used for your business promotion and marketing. You can drive in a good number of traffic towards your website using Facebook. But if you are not familiar with these techniques, consider this article as useful as you will find a couple of effective tips and tricks to increase your website traffic. The following are some vital techniques to Effectively Use Facebook To Increase Website Traffic.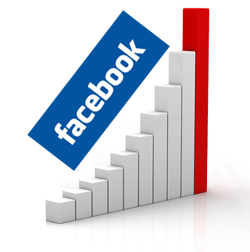 1. Build your Facebook network
Before you think of implementing any technique, it is important to develop your own network of Facebook friends first. To begin with this, you should join a couple of groups which belongs to your niche area. Once you add some groups, make sure you also request people to add you as friends. Besides, Facebook has its own tool which keeps on suggesting a couple of people to add as friends on a regular basis. Make sure you keep sending at least 20 friend request on a daily basis with a small note about the reason you want to become their friends. So if you go with this pace, at the end of two months you have more than 1000 friends on Facebook. In this way you build your Facebook network and move on for your website traffic strategy.
2. Update your status daily
Make sure you login daily at Facebook and keep updating your status. Always void putting statues like bored or sleeping or just came to work etc. These would not give your friends or people in your network a positive message. In fact you should share some good quotes and proverbs from famous people of your niche area. For instance you can think of adding with things related to work, commitment, goal, work ethics, peace etc. Also, you can think of sharing some good jokes and humor. The goal of these things is to seek the attention of people so that they may visit your profile to know more about you.
3. Create your business page
Now you have your own network to which you share a good rapport, it's time to move on to create your business page. So apart from having your personal page, you will now have a business page. Creating such business page is similar to your personal page over Facebook. So better design a nice logo and use it for the same where you have space for adding your picture for business. The next step would be to become a fan of your business page. Once you are done with this, you can now use this business page to launch a Facebook ad drive or campaign for your target audiences. You can now promote your business page with the help of your blogs, blog comments etc. and request people to join you there by becoming a fan of your business. You can use some strategies like free T-shirts or ebooks or any other kinds of perks for people to become your fan.
4. Manage your business page
Once you create your business page, make sure you manage it professionally and keep on adding good stuffs over it. For instance put some good promotional pictures over your business page which will tempt people to tag over these images. This can be seen over their own network too in different news feeds. In short you need to keep your business page happening and effective by sharing good stuff and cool pictures.
5. Create your own events
Once you are done with the above steps, it's time to start your own events. Events are methods to make you more popular over the Facebook provided you use this tool effectively. You can see some viral effects over thousands of people who are into your network. Send everyone the invitation for the created events in your network, who in turn forward it to friends in their personal network. So you are cashing up a network of networks and reaching huge amount of people through your events. So at the end of the day you are getting popular with things like events.
If you own a website or a blog, you can certainly use the platform of Facebook to drive traffic. Facebook is a great platform for carrying out a number of activities for your business which eventually helps you in brining a number of traffic to your website or blogs. So if you intend to do so, make sure you incorporate the above said steps discussed in the article and increase traffic for your website or blog.
About the author: Brianne is a blogger by profession. She loves writing on technology and luxury. Beside this she is fond of books. Recently an article on astro gaming attracted her attention. These days she is busy in writing an article on x video rocker.