Want to get your brand in front of thousands of highly targeted potential customers?
If your target audience are Bloggers, SEO, Small business and online entrepreneur, you're at the right place to advertise.
Started in 2011, All Blogging Tips is fastest growing and active blog, visited daily by thousands of bloggers.
This site is targeted to those interested in Blogging, SEO, link building, Social Media, Affiliate Marketing, making money online and more.
We targets the Bloggers, Small Business Owners and Webmasters.
The sites traffic and audience are growing quickly.
In addition to exposure, your product/service will also get tens of thousands of traffic from us.
We offer a wide range of advertising options and solution to our advertisers and ensure that they get maximum CTR and exposure.
There are numerous types of advertising options available here and we can also review your theme, plugin or other service related to our niche.
Advertisement Banners and Prices
| | | | | |
| --- | --- | --- | --- | --- |
| AD ZONE | POSITION | SIZE | PRICE | AVAILABILITYY |
| Header | Top, Center | 768x90px | $300 | Available |
| Sidebar | Middle, Right | 300x250px | $120 | Available |
| Before Post | Middle, Center | 468x60px | $90 | Available |
| After Post | Middle, Center | 468x60px | $100 | Available |
| Sidebar | Top, Right | 125×125px | $60 | Available |
All ads are sold at fixed 30-day rates.
Sponsored Reviews
You can get your product or website reviewed here for $400. Product must be related to our Niche.
Review Amount : $400 $219(2 spots left!)
Please note
Reviews will be published within 2-3 days.
Maximum of 2-3 do follow backlinks are allowed in post.

 
What You WILL GET?
Highly targeted potential customers
More sales and exposure
Backlinks and Traffic
2-3 DoFollow backlinks
BONUS We'll also promote your product/service weekly or certain period on all our Social Media profiles, which includes Facebook Page (8100+ users), Twitter (3950+ followers) and mailing list (with 2K subscribers).
Our Recent Advertisers: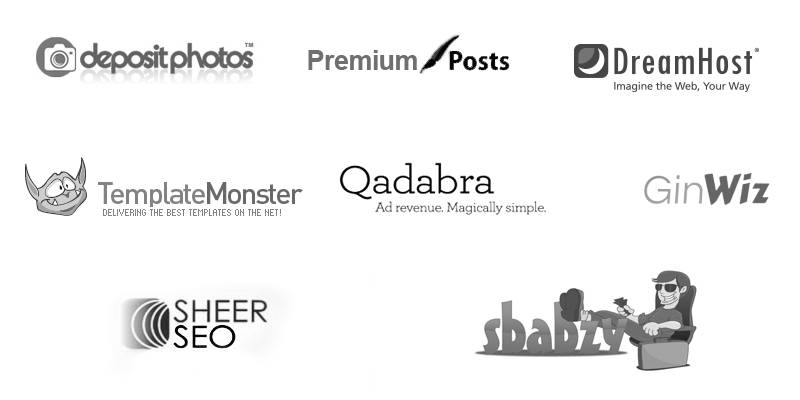 Here's What People Are Saying About Us
"It has been wonderful working with Ammar Ali the founder of Allbloggingtips.com who runs a clean and quality blog. Not only that he is professional at what he does but his level of knowledge on so many subjects is really what to aspire to.

I highly recommend Allbloggingtips.com for the best platform to advertise your products, only if you want MASSIVE traffic. Our traffic on Sbabzy.com tripled and we have since been working closely with him not only to advertise but also on different projects."
Oluwaseun Babajide, Sbabzy.com
"We at Infolinks.com have been working with Ammar Ali and 'All Blogging Tips' for a few years now, and it was always a pleasure. From quality targeted audience to fantastic account management, Ammar and his team never settle for anything but the best.

Since we launched Infolinks Publishers' Referral Program in early 2015, 'All Blogging Tips' has become one of our top leading referrer partners, constantly providing us with a great amount of bloggers that have the ability to benefit from Infolinks' ad products.

Our overall experience with 'All Blogging Tips' has been truly amazing. They really spread the word about Infolinks among their readers, and thanks to Ammar and his devoted team, more online publishers can monetize their blog with Infolinks' real-time innovative ads."
NITZAN GURSKY, MARKETING TEAM LEADER, INFOLINKS.COM
What are you waiting for? Advertise now!
Payment mode: We accept Payment via PayPal , Western Union, Skrill (Moneybookers) and Bank Transfer.
If the product or the website is extremely good, I'm ready to decrease the price.
For pricing and other options, please feel free to get in touch using the email given below.
Contact us on : ammar (@) allbloggingtips.com