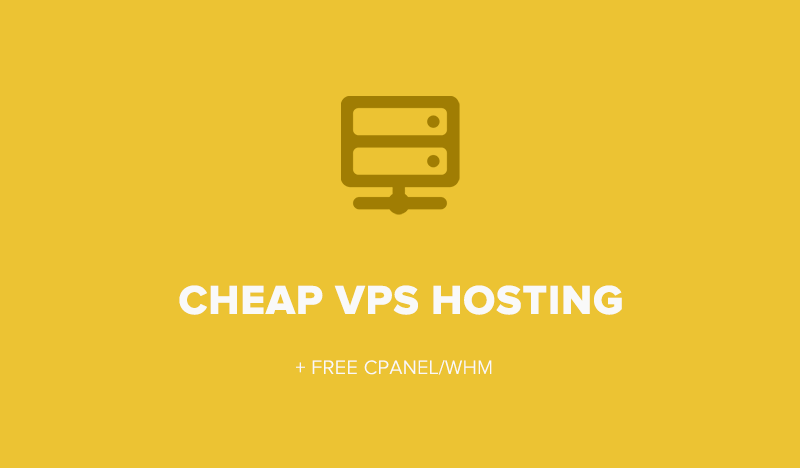 VPS is one of the type of web hosting accounts, from which you can choose to host your website online.  If you are owning a website then you must have your file of website on the web server.
Virtual private server is a server that runs the software in the environment which is virtualized, and the customers share the storage and hardware with.  Simply it means that your website will be hosting other sites and that will occupy a virtual machine on the hardware. Technology of VPS is same to VMware and Virtual Box. By having these programmes you can run several operating systems at a time.  The cost of the running site is being shared, which comes out in the monthly or yearly charge.
The best elements of dedicated hosting and shared hosting is in VPS. Though VPS is a bit expensive than shared hosting but it far better than that. You can setup your shop for $ 10 in shared hosting while in VPS you have to pay between $15-$100. In shared hosting you can share a portion of the server with any other user, when you are facing alot of traffic on your site and highly needs to set-up the site's server in a particular manner. Whereas, in VPS you can rent a small portion of the server and can save a bit of money, if you have just started with a website and is facing alot of traffic.
To find an affordable VPS hosting provider could be a problem but here, you can find some recommended rich featured, efficient and reliable cheap VPS web hosting providers, at reasonable prices.
List of Cheap VPS Hosting Companies
Rank
Company
Price
Features
1
InMotion Hosting
$29.99

Cheapest VPS plan for $44.99 $29.99/mo
Free domain name
4GB RAM, 60GB Diskspace, 2TB Bandwidth
FREE cPanel and WHM
FREE SSD hosting – 300% faster site
FREE transfers – upto 30 cpanel
FREE backups
90 days money back guarantee

2
Bluehost
$14.99

Cheapest VPS plan starts from $29.99 $14.99/mo
2GB RAM, 1TB Transfer, 2 CPU Cores, 30GB Storage
99.92% uptime and good response time
Enhanced cPanel with multiple tools for an easy user-interface
Free domain
24/7 support
Automated backups, daily and weekly.
Officially recommended by WordPress.org

3
Dreamhost
$15

Cheapest VPS plan starts from $15/mo
1GB RAM, 30GB Storage
One Free Domain
Hand-rolled Control Panel
Award winning Customer support
100% Uptime guarantee
97 days money back guarantee
To learn more, visit http://www.dreamhost.com
Now let's take a look at review of each inexpensive VPS hosting and their plans.
InMotion
You can have a flexible, scalable and reliable VPS hosting option only with InMotion hosting.  To ensure maximum uptime it has  introduced new and improved SSD VPS plans which include a latest and high-availability feature which is powered by cloud.  Being a customer of InMotion you can enjoy fully managed and feature-rich  which includes 2 dedicated IP, free cPanel/WHM,  4GB memory and 60GB SSD disk space. Moreover, they also provide their valuable customers with free daily back-up services.
InMotion VPS is comparatively affordable. Solid cheap linux VPS hosting is offered by InMotion, that starts at $29.99 per month and tops out at $74.99 per month. InMotion charges $29.99/mo whereas other VPS might charge $40/mo for 60GB SSD and $20 extra for cPanel/WHM.

Regular price of InMotion VPS is $44.99 but they offer 40% additional discount, that will reduce your charges to $29.99. The prices of other VPS (i.e GoDaddy, Hostgator, e.t.c) is higher than InMotion and the features offered by them are not good as InMotion's. For example: InMotion is offering 4GB memory, whereas GoDaddy and Bluehost is offering only 2GB memory for $39.99/mo and $29.99/mo.
Buy your own VPS today!(it's quick & easy)
InMotion Hosting VPS is quite reliable and fast. Without comprising on the quality of their products they provide high-quality VPS in extremely low prices. Inmotion Hosting guarantee a 99.9% uptime on their VPS. InMotion guarantees 100% customer satisfaction and is offering 24/7 customer support service. They also guarantee 100% refund if you decide to cancel your account, within 90 days.
In short InMotion is the best VPS package in this industry, which is perfect in all spheres, whether it is in terms of price range, quality service or customer care. That's why it's rated as #1 cheap VPS Hosting.
Bluehost
Bluehost provides you one of the best inexpensive VPS hosting experience in this field, which includes amazing features at extremely affordable prices. The VPS of Bluehost  is built on the platform of cloud, which is an open source technology which is designed to offer their clients a simpler, safer, faster and always-on services. Bluehost offers redundant storage and sitelock security too. Using the open source security like KVM and OpenStack , VPS is offered which is highly powerful and easy to use and very cheap.  See less switching of the shared plans from Bluehost. The VPS of Bluehost is powerful enough and can easily handle a high traffic complex websites. Your VPS server is always connected due to redundant network infrastructure and various bandwidth.
Bluehost offers a great thing to their customers, in which full control of creating passwords, which grants access to specific aspects of the accounts of the customers.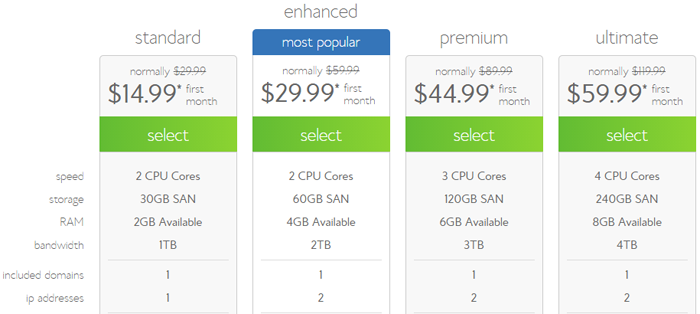 Bluehost offers standard, enhanced, premium and ultimate named plans for your cheap VPS hosting need. In standard plan you are provided with 2 CPU Cores, 30GB SAN,2GB and 1TB only for $14.99*. The enhanced plan is providing 2 CPU CORES, 60GB SAN,4GB and 2TB only for $29.99*. You can get 3CPU Cores, 120GB SAN 6GB and 3TB only for $44.99* in the premium plan.  The ultimate plan costs $59.99* for 4 CPU Cores, 240GB SAN, 8GB and 4TB.
Signup with Bluehost for $29.99 $14.99/mo
If you are not satisfied with Bluehost VPS ,then you have the opportunity of getting the refund. Furthermore, Bluehost can immediately deal with any type of hurdle created in terms of network. It's because of the cloud technology it had. It also offers 24×7 customer service support. It's rated as the second cheapest VPS linux web hosting provider.
Dreamhost
Dreamhost is an award winning VPS provider, which is currently hosting more than 400,000 customers globally and 1.5 million websites.
Dreamhost is extremely affordable company and offers four different cheap VPS linux hosting plans. The most expensive plan is for $120/mo in which 8GB RAM is offered, 240GB SSD storage, unlimited domains and bandwidth. The second plan is for $60/mo in which 4GB RAM, 120GB SSD storage, unlimited domains and bandwidth is being offered. Other plan includes 2GB RAM, 60GB SSD storage, unlimited bandwidth and domains. The minimum $ plan is for $15/mo which includes only 1GB RAM, 30GB SSD Storage and Unlimited bandwidth and domains. All of the plans are supported with 24×7 tech support, 1 dedicated IP address and 100% network uptime.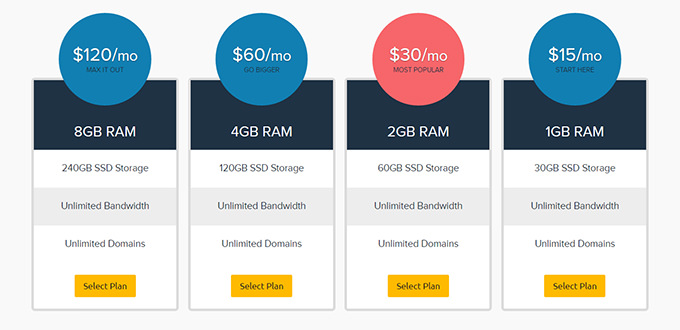 Dreamhost has introduced couple of series of measure in order to improve the reliability and speed of its VPS hosting. To extend and enhance its service, DreamHost announced to deploy Necira's network virtualization platform. Furthermore,  highly experienced team of technicians have been hired to look after it. The rating of DreamHost increased due to the strategy applied by them.
Signup with Dreamhost!(it's easy!)
The strategy was of replacing operating on the centres of data on its own with   collocation services. This strategy turned out a fruit for hosts and DreamHost got a chance to work with some world-class data center providers and extend its geography as well as capacity. The VPS customers of DreamHost have the opportunity of availing the support from them through e-mail and live chat which is offered at their control panel.
The above provided VPS service providers are one of the best having best prices, best customer's reviews and best services offered by them. It's guaranteed that you will not regret for the amount you pay to these companies.
Conclusion
If you're looking for best cheap VPS hosting with rich features – InMotion is a great choice as compared to others. Bluehost is also a good option but it isn't that cheaper nor provides as much good features as InMotion. Dreamhost would be the last option.
So choose anyone you like or go with my suggestion which is InMotion. I'm using their VPS to host this website and really happy with them.