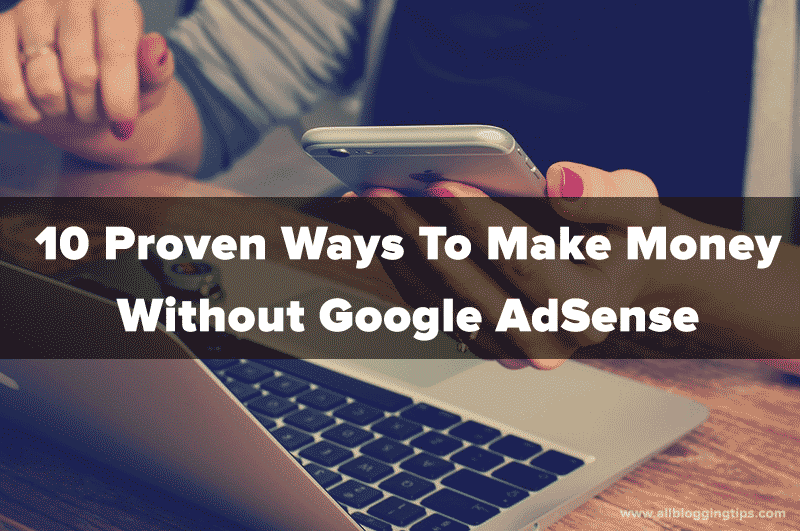 Is Adsense the only way to make money from your blog? Certainly, not. Many bloggers are making money without Adsense. As a blogger, you just need to figure out other profitable methods to monetize your blog.
Guess what – I did the homework.
So, if you are frustrated after applying for Google Adsense again and again, and got rejected every time then this post has got some wonderful material for you. Even, if you hate getting pennies from ad networks then you should stick to this post. Because, I will share some profitable methods to make money without AdSense.

Let me ask you.
Is getting approved with Adsense a big hurdle?
You have tried everything to get AdSense approved but no luck?
Adsense pays you very low income per month?
Ads annoy your readers?
Ads make your website look cluttered and terrible?
The reason could be anything.
Whatever the case is, now you should have better options to consider. If you are blogging for a while then you must know your audience. This will help to figure out the right way to monetize your blog.
How to Make Money Without AdSense
You can dig more into these best AdSense alternatives for your blog to make money without AdSense.
Let's cover each topic in detail;
1- Affiliate Marketing
Affiliate marketing is one of the profitable ways to earn money from blogging. Basically, you promote someone else product over a small commission. It can generate more profit as compared to AdSense.
First, you need to sign up for few affiliate programs that are relevant to your niche. You can choose products that you would like to promote to your audience. Once you get approved to be an affiliate of certain program, a special link 'affiliate link' will be given to you. When someone click on your affiliate link and make a purchase, you earn a commission. As simple as that.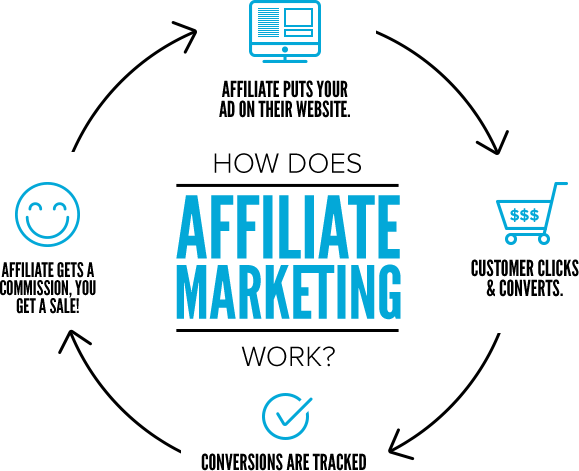 Before doing affiliate marketing, you should pick products that are of high quality. Don't use products that may tarnish your blog image.
Few tips for successful affiliate marketing;
Choose products that are relevant to your blog.
Try and test the products, if possible.
Check their commission rates. Don't accept any offer that has less than 5% commission rate for affiliates.
Always make affiliate disclosure on your blog.
Write fair and unbiased product reviews.
Don't just throw affiliate links everywhere on your blog. Only use when necessary.
Drive targeted traffic to generate sales
Want to read further? Check out AdSense vs affiliate marketing detail comparison.
2- Sponsored Posts
A sponsored post is just another kind of blog post on your website. It should have the similar writing style and tone. The difference is that the brand pays the blogger to create a post and publish it.
However, sponsored posts can may take many forms. Some companies just want to mention their product once in a post. While other companies want bloggers to write a complete detailed review. Some brands just approach bloggers to publish a pre-written sponsored posts on their blogs for a fixed amount. In some cases, the bloggers don't have to write the post. They just need to review the post and make little tweaks before publishing the post.
Some brands give free products in exchange of a sponsored posts. While most companies pay money.
Initially, you have to connect with brands to seek opportunities. You should also set up advertisement page on your blog for companies to contact you. Remember to always mention it somewhere in the post that the following post is sponsored.
Here are few sites to find sponsored reviews opportunities;
Izea Pay Per Post
SponsoredReviews
PayU2Blog
SocialSpark
When applying to above sites, you should have a media kit prepared. It should represent the total number of social media followers, email subscribers, and your blog monthly statistics.
Another best alternative to Google Adsense is Media.net. If you got fed up with Adsense, and they don't approve your blog for their ad network then you should definitely consider Media.net. Due to strict rules and thousands of applicants, it becomes difficult to get approved for Adsense.
Media.net is another popular ad network that allows you to display ads on your blog and make money with it. It's a contextual ad network which shows relevant ads on your blog. For example, if you have a cat blog then the ads will be relevant to your content on the blog. It thus increases the total number of clicks on the ads.
It's just another form of PPC advertisements on your blog. When approved, you will be get paid depending on the quality of traffic, blog niche and total clicks on ads.
4- Write Paid Reviews
Paid reviews are somewhat similar to sponsored posts. Bloggers are getting paid for writing a product review on their websites. Companies need bloggers to review their products and recommend it to their followers. Most often, bloggers receive free products from brands in exchange of a detailed review. In other cases, brands pay bloggers for writing a review.
Most importantly, you need to mention it clearly in your blog post that it's a paid review.
If you are generally interested in writing paid reviews then you should use the products first. You cannot just recommend a product and write about it on your blog if it's of poor quality. Because, your readers are at stake and you can't risk their trust.
If you are a lifestyle blogger, you probably get tons of opportunities to make money through writing reviews.
5- Offer Freelance Services
Another lucrative way to make extra money from your blog is by offering freelance services. It can be a great way to earn a consistent income.
As a blogger, you wear several hats. You got to have writing skills, social media skills, blogging skills etc. You can easily offer part time freelance services from your blog.
You can offer following services;
Freelance writing
Blog management services
Social media content
Other virtual assistant services
It's better to set up a 'Hire me' page on your blog. It thus makes things clear for your prospects.
6- Accept Paid Guest Posts
Many websites make money by accepting guest posts on their sites. It can be a new way to make few extra money. If you are blogging over a year or so, you might have established a good DA which means that your blog can be an ideal place to land a guest post.
Depending on your domain authority, website rankings, audience engagement and overall traffic, you can set rates for accepting paid guest posts.
7- Paid Advertisements
You already know that advertisements on your blog can help you make money. Basically, you can sell ad places on your blog over a fixed monthly rate. The prominent places like header area or the widget area are the ones that get most clicks. So, the companies pay blog owners a fixed rate for displaying their ad over a month. These companies exhibit their products, and tools through ads.
Of course, you should make sure whether the ad is relevant or not. You can review the link to which ad is linking to.
8- Sell Your Own Products
The idea of creating your own product may scare you for a while but it can be passive income for your blog. The best thing is that you create these products once and you get the sales for a long time.
Ebooks can be a wonderful digital product. People love to read ebooks on multiple topics. Whether you are a food blogger, or a motivational coach, you can easily create an ebook and sell it to your readers.
Nowadays, online courses are far easier to create. Platforms like Teachable and Udemy are easy to get started.
You can also make custom merchandise using the print on demand business model and monetize your site selling t-shirts, mugs, pillows, and other POD products.
So, you can sell digital and physical products on your blog to make consistent income.
9- Start Membership Site
Do you provide value to your blog readers?
Do you offer strategic advice in your blog niche?
Are you an expert in your field ?
Whatever be the case – memberships can be another great way to generate money online. Basically, you can offer anything to your audience and get a monthly fee.
Many business owners offer webinars, video tutorials, checklists, live Q/A, templates, reports, case studies, products etc. People join membership sites to simplify their lives. It speeds up their learning process.
It's more like a Mastermind group where you need to be available for your audience. It's a close place for authentic learners who want to learn from you.
The idea is to create your outstanding content so that others would find it useful and pay you. Always brainstorm ideas before you build a membership site for your audience. Most importantly, it consumes hard work and commitment from your side. You have to market the membership site and keep it updated every time.
10- Offer Consulting
Many people create their website for the sole purpose of making money through coaching or consulting. That represents how consulting online can be a possible way to make more money.
It may take few months to get your first consulting client but if you market yourself efficiently then chances are very high.
Below are few tips to use your blog for consulting services;
Set up a page on your blog. Make it professional. Make it clear what you will offer in the session.
Hang out in the social media communities. Give free advice over a subject.
Give free 3 consulting opportunities to individuals who seek your advice.
Ask for testimonials from those individuals.
Reach out to potential clients through emails, messages or social media.
Use your blog to send visitors to your consulting service page.
Do you still need Adsense to make money?
I don't think so.
I do believe these ten ways guarantee to make money online. You don't really need adsense, right? It's just one common method used by several bloggers. But, if you look at the above-mentioned options, you will find out some other possible opportunities.
If you are consistent and ready to do extra effort then making money is totally possible even without Adsense.
What other methods you use on your blog?