SEO is a journey. What this tells you is that you cannot afford to not be on your toes. There is always a new update rolling out, or a technique, all meant to help your SEO to work for your brand better. As a webmaster, you can bear witness of how much slacking behind is not an option for you. All efforts are directed towards making SEO work for your brand.
It is quite apparent how much keywords mean to your website. They are too important to ignore: which gives birth to keyword research. It is a term you should be familiar with if you want to drive a quality audience to your website. Keyword research entails finding relevant words that will get your target audience visiting your site. That said, you will need the following six keyword research tips to get it right.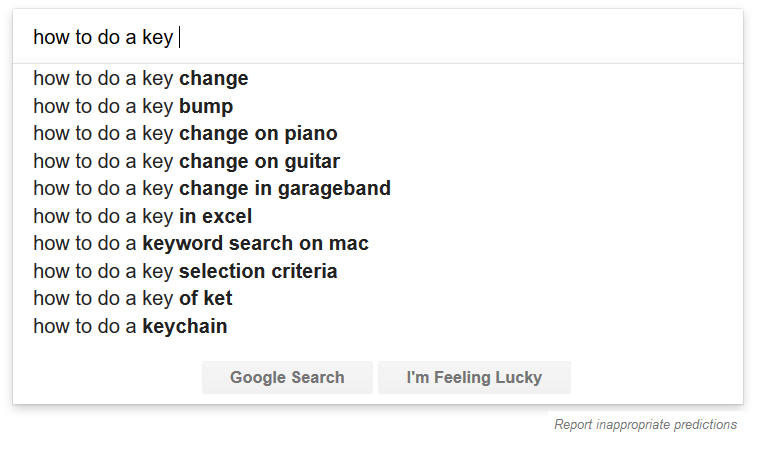 1. Google suggestions
Ever tried searching for something on Google than as you are typing some suggestions pop up? Well, it must have annoyed you to the core, but it is worth noting that it is your gold mine. Remember that Google is one of the biggest search engines. So as it is making guesses on what you might be wanting to search, you might as well as conclude that the guess is an educated one. Pay more attention to the suggestions.
Google is more than aware of what most people look for. If you look closely enough, you will notice that it gives you fantastic ideas on relevant keywords that you could use for your site.
2. Create a list of localized keywords
There is something that has been trending over the recent past: local searches. They are growing at an impressive rate and taking advantage of that fact would be a smart move. Through this kind of research, the aim is to have keywords that will help visitors on local searches to locate your website. Luckily, Google today works in such a way that it presents suggestions to users depending on their last search location.
The trick is simple, what you will be required to do is to employ the Bulk Keyword Generator tool to help you retrieve localized keywords. While using them, remember to be clear about your industry so that you get more targeted feedback of the same.
3. Long-tail keywords
Among the most effective keyword research technique is using long-tail keywords. There are endless benefits that come with this. For instance, instead of using a keyword like 'hair loss,' you could use a long-tail keyword like 'hair loss prevention techniques.' The latter is more precise; you will be able to help the audience find what they are looking for in the first instance. More so, you are eliminating competition by being precise. You can imagine the number of search results that 'hair loss' would bring in comparison to 'hair loss prevention techniques.'
4. Competitor research
You should always watch your competitor like a hawk! You need to know the type of keywords your competitor is using. How effective are they? Are there any gaps that you feel you can bridge? Remember that you are out for the same audience. Some leakage and improvements in their keywords would work well for you.
5. Voice search
Voice search is a new trend. If you have not put it into use yet, you are missing out. Remember that the world is going mobile and as it happens, mobile searches keep increasing every day. It is for this reason that you need to incorporate voice search in your keyword research. How to go about it? How about you search for trending topics through typing? After that, try to find terms that are easier pronounced than typed. In voice search keyword research, it is essential that you pay attention to how you are constructing your keywords to be in alignment with the user's intent.
6. Q&A technique
How do you use this technique in keyword research? Well, when people ask questions, you get a clear perspective of what exactly they are looking for. This tactic works in a more reverse mode. What you do here is find questions that have the least of answers on sites like Quora. After that, use the questions to create keywords that have the least competition. FAQs are another way of finding questions not sorted out and using them for your keyword research.
Keywords are a fundamental function of SEO. You need to put more energy into finding ways to create best keywords that will work for your SEO. More so, it is not something that you should only do once and do away with. It has to be detailed and in every way consistent. For more information, please click https://serpbook.com/blog/seo-tracker-software/.
—
Disclosure: This is a sponsored post