Do you already own a smartphone? If you're a blogger, chances are you do. After all, bloggers as a whole are technically adept people. But merely owning a smartphone isn't enough for a blogger. We need to become heavy users, becoming attuned to all the little aspects of the smartphones. In other words, we need to become power users.
At this point you might be asking why we need to use our smartphones heavily. The answer is quite simple.
Our readers use smartphones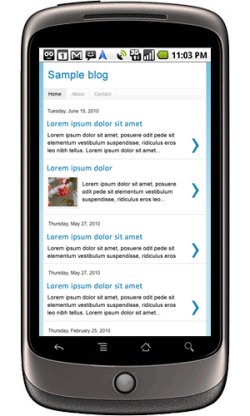 More and more people move from regular cell phones to smart phones every day. That means shifting behaviors in general. It also means changing behaviors for reading. People seem to enjoy reading on their smartphones. Web sites, particularly with mobile plug-ins, are laid out well. There are many RSS applications as well. Smartphones make reading easy.

If more and more people are reading your blog on your smartphone, shouldn't you become familiar with their device of choice? That isn't to say you should go rush out and buy the newest iPhone or Samsung cell phone just because your readers are using those devices. But it does mean you should be exploring all facets of the smartphone you do own.

Remember, blogging is about connecting with your audience. If your audience is reading on smartphones, you should become familiar with how they're reading so you can create a deeper connection. Make sure you see what they see, how they see it. Here are a few tips for become more intimate with your smartphone.
Read your site often
If you do nothing else, you should be reading your own blog from your smartphone. Sure, you know all the content. You either wrote or edited it. But you probably did that right from your computer — you know, the one with the big screen and keyboard. Reading your site from your smartphone changes the experience, and gives you an idea of what your readers see when they visit you.
When you visit your blog on your smartphone you might start to realize some things. For instance, the first time I visited my site from my very first BlackBerry I realized that it looked like crap. It loaded slowly and was difficult to read. It was clear that we needed to install a mobile plugin. Now that I use Android phones and the iPhone, I make sure that my sites look good on both of those. That way my readers get the same experience.
You might be the person who creates the blog, but your blog is nothing without the audience. Make sure you see things how they see them.
Leave comments
While mobile plugins have made it more pleasant to view blogs on smartphones, they don't necessarily make commenting easier. Since many of your readers will want to leave comments, you should make sure that it's easy to do from a smartphone. The best way to accomplish this, unsurprisingly, is to leave comments yourself.
This doesn't have to be anything time consuming. In fact, you can do it while waiting on line or on the train, since you'll be doing it from your smartphone. But just make sure that you know how easy or difficult it is to comment on your blog from a smartphone. That will motivate you to make it easier for your readers.
While you can always ask for feedback, there is no substitute for first-hand testing. Since more and more people are reading on their smartphones, it is the blogger's responsibility to ensure an easy mobile reading experience. It doesn't even take that much effort. Just make sure that you're reading and commenting on your blog with your smartphone. If it's easy for you, it's easy for your readers. They'll thank you for it.