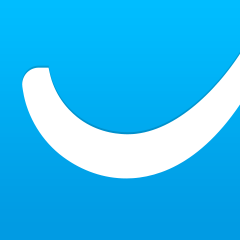 Very often people are confused which email services to use for residential and/or business purposes. Since there are several Email service providers (ESP) around the globe, it becomes quite difficult to choose the best. While it is not appropriate to call one ESP superior to another, each one has its own pros and cons. Here, we are assessing two very popular ESPs who have been the most prominent competitors of the ESP industry since quite some time: GetResponse and AWeber.
Before looking into the features of both email services and keeping in mind that the deliverability rates of both ESPs is same, a general study claims as GetResponse to be comparatively more popular than AWeber. This is because people from various regions have reviewed GetResponse quite frequently all over the internet. However, this assessment is not sufficient to finally say which one is better. So let us have a look at some features of both ESPs before reaching a conclusion:

Pricing
First difference between GetResponse and AWeber ESP is the price you pay for your email marketing. Since marketing will always have a specified budget, you will obviously want to go for the cheaper one when the deliverability rate is same for both. GetResponse is a few bucks cheaper than AWeber and this is one reason why GetResponse is better from a financial perspective.
Considering the lowest subscribers package, GetResponse users pay around $15 a month for 1000 subscribers while AWeber users pay $19 for maximum of 500 subscribers, keeping the annual charges and discounts aside.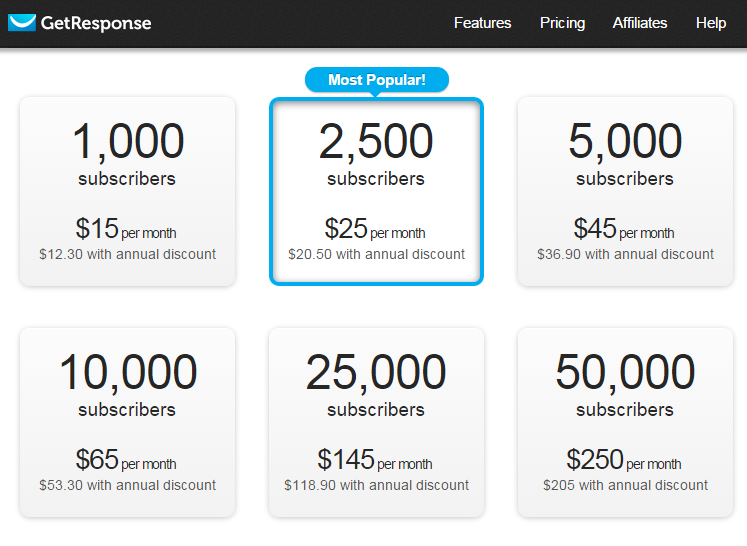 However, there are some things more important than just the price you pay.
Simplicity:
AWeber takes away the point when it comes to the simplicity of user interface. While GetResponse is cheaper, it has too many features that users must be able to understand in order to design and implement an efficient email marketing plan. Conversely, AWeber has a way simpler interface that allows even the new users to understand and operate the email service without much difficulty. This is either because AWeber has some very direct features not found in GetResponse or simply because AWeber has made the most commonly used features easier to use.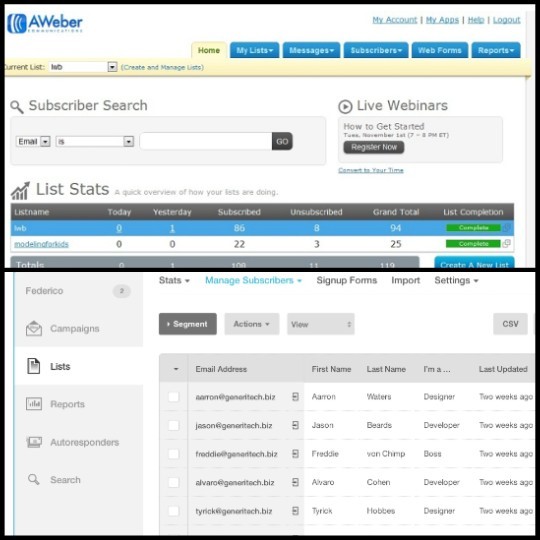 Subscriber listings:
Segmentation is done before sending emails to subscribers. During this process, users will obviously make several lists of recipients to classify different groups. This process of creating lists is way easier and convenient for GetResponse users.
This is because AWeber users have to do the entire process of entering details in the new list all over again while GetResponse users can copy the list settings and create a new list within a few seconds. However, very recently AWeber has introduced some changes with this system and it is believed that the list creating process has become easier.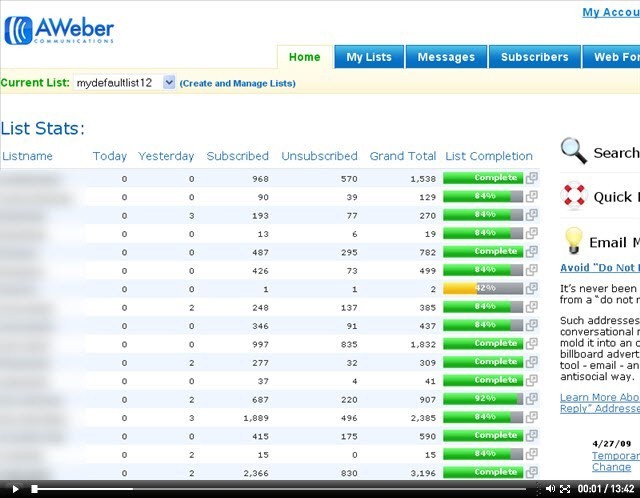 Broadcasts and Autoresponders:
While creating broadcasts and follow-ups/autoresponders is quite easy in both email services, GetResponse and AWeber both has an advantage. In a few seconds, you will realize that this feature is not worth comparing since it cannot decide which one is better. If we talk in favor of AWeber, it is an all-in-one feature where you simply create the title, choose the template and create the message all on one page.
Conversely, this has to be done on separate pages if you are using GetResponse so here AWeber takes the point. But since the template design is very important, GetResponse gains an advantage as the variety of templates is huge in GetResponse as compared to AWeber. Hence, while AWeber has one advantage over GetResponse, GetResponse too has an advantage over AWeber.
List Segmentation and analytics:
Users of both ESPs hate list segmentation but AWeber users seem to be more frustrated than GetResponse users. While GetResponse users get some flexibility i.e. they can manually shift between lists not automatically, when segmenting lists but there is zero flexibility for AWeber users. Nevertheless, if you can afford an extra $30 per month you will get AWeber protocols that will do the segmentation for you. But since you need to minimize costs, it is better to do some work rather than spending extra money.
So GetResponse takes the point here. Also, the analytics of GetResponse are outstanding and incomparable. There is no difficulty for users to find out about reasons behind unsubscribing, complains, stats and other useful info. On the other hand, AWeber has a relatively poor analytics and will not give as much details about things as GetResponse does.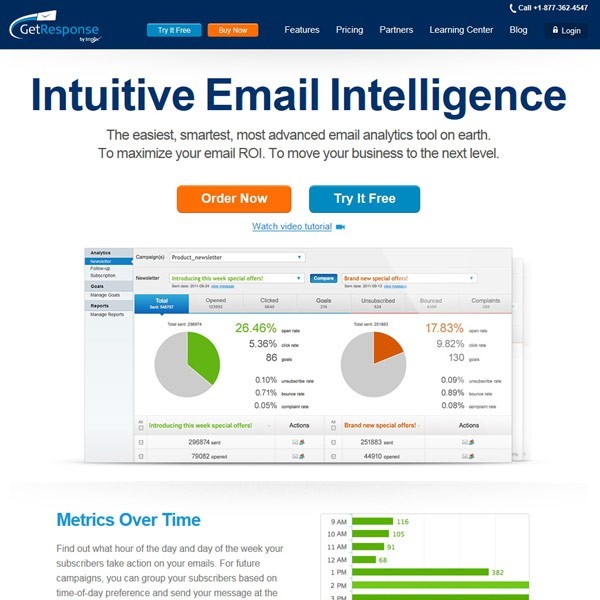 Conclusion
These are most of the prominent features that needs to be compared before evaluating which one is better. According to all the mentioned features, we can deduce that if users make a little bit of extra effort, they can enjoy excellent ESP by using GetResponse at a relatively cheaper price given that the deliverability rate is also same for both. Also most of the features of GetResponse mentioned seem to be better in some way. However, there is a reason why AWeber is in competition with GetResponse and so AWeber has its own great features.
So if you are looking for an affordable, user friendly email service provider, definitely try GetResponse for a few months and you will find it useful for sure.