Using new Twitter is really easy and it is a matter of fun too. It is more than a simple new layout
and a new and refreshing look. Twitter has incorporated some new features in new rollout to
compete with rising competition from giants like Facebook and Google. Embedding tweets
inside the blog has never been such easier.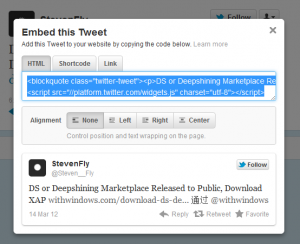 The new twitter layout brings refreshingly new fresh intuitive UI along with heaps on new
features. If you are not aware of how to use the new twitter to embed tweets in any of your
websites or blogs, just have a look at the step-by-step instructions. Also read our post on twitter
apps for Windows Phone users.
How to Embed Tweets In your Blogpost using New Twitter?
To enjoy embedding tweets using the new Twitter you have to enable the new Twitter.
Visit directly to the page of the New Twitter.
You can also visit the 'user profile' for embedding tweets.
However, you should remember that you must not use any third party access.
Now you have choose the tweets that you want to embed
The next step is to position the pointer of your mouse on that particular tweet
You will find selection criteria appearing on that tweet
Now click 'Open'.
Then click 'Details'.
This will open that tweet with that option by which you can embed the tweet
Now is the final step. You have to click 'Embed this tweet'.
You will see a pop-up appearing with the code that has been already highlighted.
Twitter borrows pages from the YouTube playbook to offer codes. These codes will help you to
share any interactive tweets with all the visitors of your blogs or websites. Using these tweets
will help to increase the lifespan and visibility of some special tweets.
You can alter the code and if you want you can also keep the code as it is. To keep the code same
you can copy it and paste it when you wish to embed your tweet. The readers of this embedded
tweet can retweet and reply this tweet. They can also favorite tweet by visiting your blogs or
websites. They can also find the option that will give them access to follow that person who has
created that tweet.
So if you want to try something new and interesting, embedding tweets using the new Twitter
is for you. It is needless to mention the popularity of Twitter as one of the top social networking
sites. It is really a wonder that make people able to connect and reconnect within short time. The
new Twitter is also not an exception and it is easier to use, particularly when you want to embed
tweets using it.
This guest post is written by Ricky Shah, a Windows Phone fanatic from India. Follow his unofficial Windows Phone blog to know more about his interest and to find out twitter apps for Windows Phone users.