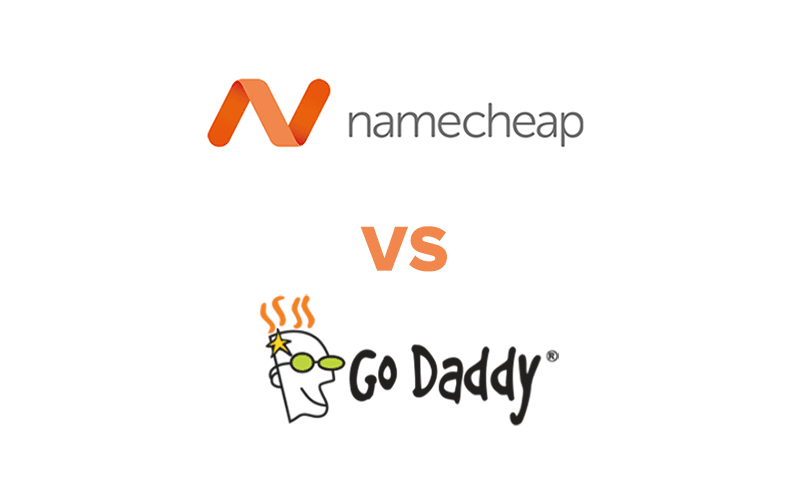 People often ask which one should they choose? Namecheap or Godaddy?
I decided to write an in-depth unbiased comparison of Namecheap vs Godaddy as I'm a customer of both..
Namecheap and Godaddy are two of the most popular domain registrars trusted by millions of customers around the globe. Both of them provides great features, services and have many things in common.
So how do you choose the best one that will care about your website and domain as much as you do?
Here's the deal.
I'm using both domain registrar and have a great experience of 4+ years with both of them. Here I'll share my honest experience along with the comparison of Namecheap vs Godaddy based on pricing, features, customer support and upsells.
In this post, I'll specifically give you a comparison between the services offered by Godaddy or NameCheap. It will eventually help you to move forward in the best direction.
Namecheap Vs Godaddy: Quick Tabular Comparison
Namecheap
Godaddy
Established
2000
1996
Customer Database
2 million+
13 million+
.com registration
$10.69
$11.99
.com renewal
$10.69
$14.99
Domain privacy
$2.88
$9
Live Support
24/7
Mon-Fri
Overall rating
4.8/5
3/5
Signup Today!
It's quick & easy
Visit Godaddy
Choose Godaddy if you're looking to buy a domain for short term only i.e one year because you can find massive discount coupon codes for the first year.
Choose Namecheap if you want to buy a domain for more than one year along with domain privacy. Their renewal rates are impressive and customer support is excellent.
Namecheap Vs Godaddy: Unbiased comparison
Based on the following important aspects, I would discuss the pros and cons of both the companies to guide you toward the beneficial decision that actually works.
A little background about Namecheap and Godaddy…
Godaddy started back in the year 1996 whereas NameCheap founded in 2000 by Richard Kirkendall. The official site of Godaddy claims to manage a huge number of 62 million domains while NameCheap scores more than 5 million domain under management.
But, I never get never impressed by the numbers. In fact, my concentration maintains focus on the quality of service and customer support. Many of the webmasters would agree that Godaddy has become a huge disappointment for a massive number of clients.
Pricing
Without any doubt, one of the most important aspects that come in mind before buying a domain or hosting service is the price factor.
NameCheap and Godaddy offer cheap rates for booking domain. Both the companies have made it extremely affordable so that anyone could afford the value-priced domains.
Godaddy offers a massive discount when you register your domain for the first time and when the renewal date comes it's much more than what you expect.
For example: Godaddy runs promotion of $0.99 domain only and renews at $15/yr. The privacy costs additional $9/yr. In the case of Namecheap, a .com domain costs $10.69 for the first year along with free domain privacy (valued at $2.88) and the renewal cost is just $10.89 only plus $2.88 WHOIS privacy.
Namecheap is the winner when it comes to domain pricing. Godaddy might seem a lot cheaper but when it comes to renewal it just sucks. That's why I recommend taking look at some Godaddy alternatives.
Registration Price
| | Namecheap | Godaddy |
| --- | --- | --- |
| .com | $10.69 | $11.99 |
| .net | $12.88 | $11.99 |
| .org | $12.48 | $7.99 |
Transfer Price
| | Namecheap | Godaddy |
| --- | --- | --- |
| .com | $9.69 | $7.99 |
| .net | $11.88 | $7.99 |
| .org | $11.48 | $7.99 |
Renewal Price
| | Namecheap | Godaddy |
| --- | --- | --- |
| .com | $10.69 | $14.99 |
| .net | $12.88 | $16.99 |
| .org | $12.48 | $17.9 |
Domain Privacy
| | Namecheap | Godaddy |
| --- | --- | --- |
| First year | FREE | $9 |
| Renewal | $2.88 | $9 |
Domains at Namecheap cost $10.69/yr along with FREE domain privacy valued at $2.88 while at Godaddy domain cost $11.99 and $9 additional for privacy which is much expensive. If you consider the renewal charges, NameCheap offers reduced prices than Godaddy.
Namecheap also offers SSL at exclusively low rates as compared to Godaddy. You can buy your own Comodo SSL starting at just $9.99/year. SSLs at Godaddy starts from $69.99.
If you're going to buy your domain from Namecheap you can use my affiliate link. I'll get a small commission when you make the purchase.
Register Your Domain Today
It's quick & easy!
Overall, Godaddy goes to a higher side when it comes to price.
Support
Whether you buy a hosting plan or even a domain, there are a lot of unsettled queries and you need an ultimate guidance. That's fair, every newbie deserves the rights to seek proper help.
Owing to an experienced support team, both the companies offer 24/7 free service but they may differ in the mode of communication. Namecheap does not provide phone call assistance whereas Godaddy gives no instant facility for live chats.
NameCheap's live support team is quick to respond and to solve the puzzle queries on time.
I've had the horrible experience with Godaddy customer support. I sent them an email some weeks ago and never got any response yet. I contacted their support on Facebook and they told me Godaddy email support will get back to me within 3 days. I'm still waiting to get their reply. Here's the screenshot of the email. ;)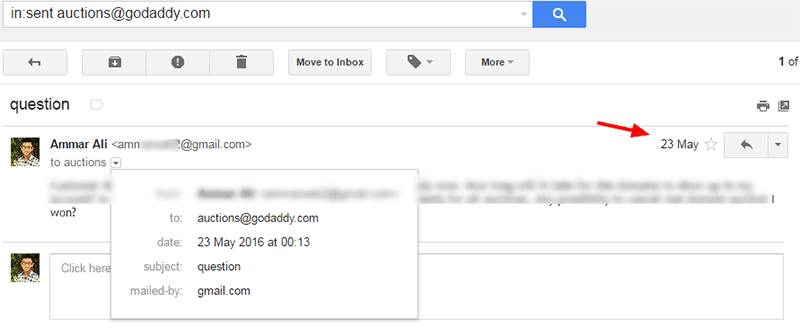 Godaddy provides live support at specific hours from Monday to Friday. You'll have to wait for at least 10 minutes to get connected to your live agent.
On the other hand, Namecheap support is very much easy to access. I never had to wait for more than 1 minute to get contacted to their live support. They are always available for 24/7.
If I compare the customer service of Godaddy vs NameCheap then NameCheap is the clear winner. It's not just me, but a number of web experts have complained about the terrible support of Godaddy. There is an update that the company has done certain improvements to uplift the standards.
Interface
All the domain providers have an excellent, fast search tools that take no time in finding the domain you want.
An easy-to-use dashboard is the most attractive feature for any domain or hosting provider. The checkout process of Namecheap is extremely smooth and seamless. On the other hand, Godaddy provides a confusing checkout process that can be problematic for the newbie users.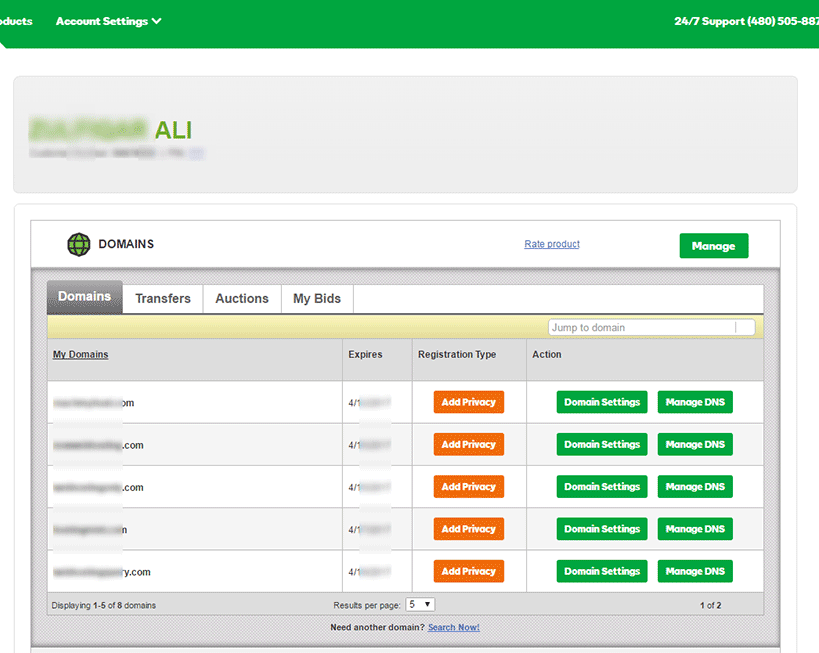 Namecheap follows a simple interface which is engaging and also intuitive, while Godaddy's user interface is cluttered and difficult to use.
Upsells
A lot of web companies use irresistible tactics to trap customers into more offers. Well, it frustrates badly. Big businesses have lost the clients due to the up-sells.
Among both the companies, Godaddy is popularly known for up-selling clients. It throws the impression to the customer that it is immensely hard to buy what you wanted to buy. If you're a new client and completely unaware about the buying procedures then Godaddy can make yourself pay for a bunch of things like web hosting or email service you might not need at all. It's cruel!
I recommend buying hosting from the company other than your domain registrar. It's definitely a great idea to separate your domain registrar and hosting company. That's what I and most of the people out there do.
If you're looking for a good hosting company. I recommend InMotion hosting. You can choose anyone you like or go with my recommendation which is InMotion (and that's what I use). You can use this link to save whooping 56% off your first hosting bill.
Anyways, all sort of added services increases the bill payment and it makes domain complicated to use. Make sure to uncheck all the unnecessary options that pop alongside your plan.
That's not the case with Namecheap. Unlike, Godaddy, Namecheap checkout process is professional, neat and easy to understand. They won't trap you into buying anything you won't like.
Ethics and marketing tactics
The decision should not be based entirely on the monetary and non-monetary benefits you receive from the seller of a product or service. Business ethics and values should be strictly followed by all enterprises which, at some point, had been violated by Godaddy, even though it was done wisely. When the case of Stop Online Piracy Act (SOPA) was going on, Godaddy actually supported the cause for personal unfair advantages. The case favored more regulations on the internet that would have been disadvantageous for several entrepreneurs in the industry.
Namecheap, on the other hand, played fair and fought the legislation in a partnership with Electronic Frontier Foundation. Famously exploiting sexuality in marketing and the CEO being an Elephant hunter, Godaddy lost 70,000+ customers. The real entrepreneurs are those who maintain business ethics and standards regardless of how their business gets affected.
Here's the quick comparison again just in case you want to read it again.
Namecheap
Godaddy
Established
1996
2000
Customer Database
2 million+
13 million+
.com registration
$10.69
$11.99
.com renewal
$10.69
$14.99
Domain privacy
$2.88
$9
Live Support
24/7
Mon-Fri
Overall rating
4.5/5
3/5
Signup With Namecheap
It's Quick & Easy!
Not recommended
Who's the best? Namecheap or Godaddy?
To sum up the above comparison, Namecheap is the winner all the way!
I've been with them since last 4 years and all my important domains (including this one) are hosted with Namecheap. I still have some domains with Godaddy which I'll be moving to Namecheap soon.
Whenever I got stuck or have any simple question about domains I take no longer to contact Namecheap and they immediately answer my query. For Godaddy, I either have to wait for so long or forget about the issue.
Namecheap might have lesser customers but it doesn't have a bad past and it successfully offers value-added services to the customers. On my end, Namecheap is the prominent winner for its amazing support, plans, user interface, and features.
Godaddy still needs to improve their pricing and customer support.
Did you find Namecheap Vs Godaddy comparison useful? Which one are you going to use for your domain registration Namecheap or Godaddy?
If you've any questions feel free to ask in comments.