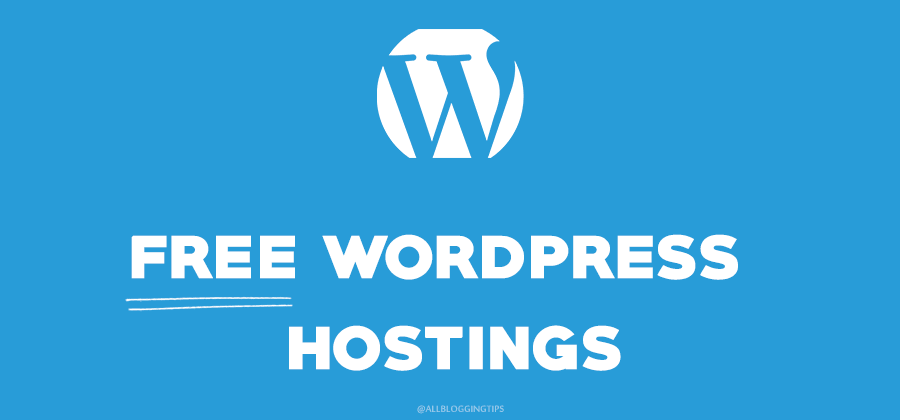 Free WordPress hosting can help you take advantage of a great variety of features for free! With a free hosting service, you can upsurge your global reach and you'll learn that it is a great way for you to experiment with your WordPress site. It is often a difficult decision to choose a hosting for your new WordPress blog or website.
Most of the beginners prefer to begin with free hosting so as to learn WordPress itself and experiment with new and different things. Only once they are done learning, they wish to shift to premium hosting service. Free hosting is therefore, the ideal choice for you to begin blogging with at the cheapest costs and would also help you learn WordPress efficiently.

However, it must be noted that everything comes with its merits and demerits. Free WordPress Hosting is amazing for basic trafficking as well as building up your own website. But it has really limited bandwidth and speed. You might be forced to pay for the hosting if the limit exceeds. It also lacks the other technical features as well as customer support. If you're stuck with some technicality, there might not be anyone to help you out. Other than that, there will be a number of annoying ads that keep popping up on your website and so free web hosting may not work for you.
You're going to be the next professional blogger or entrepreneur and I don't want you to ruin your career by choosing free hosting. I recommend Bluehost Hosting (Offer: $2.95/mo) to start your own professional WordPress blog.
Free WordPress Hosting Service Providers
Here have been enlisted for you a collection of the greatest free web hosting providers for WordPress. There are entirely free of cost and so nothing stops you from trying all of them:

X10Hosting offers free WordPress hosting with some great benefits with no hidden restrictions as are in the rest of the free web hosting providers.
Their free plan offers you to set up 2 add-on domains, 1 parked domain and 3 subdomains. It allows you to make 3 email accounts and FTP accounts. They offer free WordPress hosting with no ads to start your own WordPress blog. It offers great web hosting options like MySQL POP3, SMTP, Forwarding, Web-based Email, PHP mail, Sendmail and many features such as CGI, PHP or SSL.
Features
Disk space: 100 MB – 2500 MB.
Advertisements: No ads (banner-less).
Upload options: FTP, Browser, SiteCopy.
Supported Scripting: CGI, PHP, SSL, FrontPage Extensions, Perl, Python
Others: Bandwidth limits 3,000 – 45,000 MB/month. cPanel, Fantastico
Pros:
Better uptime and customer support compared to others.
cPanel with most features and automatic script installers like Softaculous.
Unmetered bandwidth and disk space (there is FUP on image galleries though).
Cons:
Plenty of cases of abuse, high resource usage and blacklisting.
Support requests take time to get a reply, since the staff spends most of their countering abuse.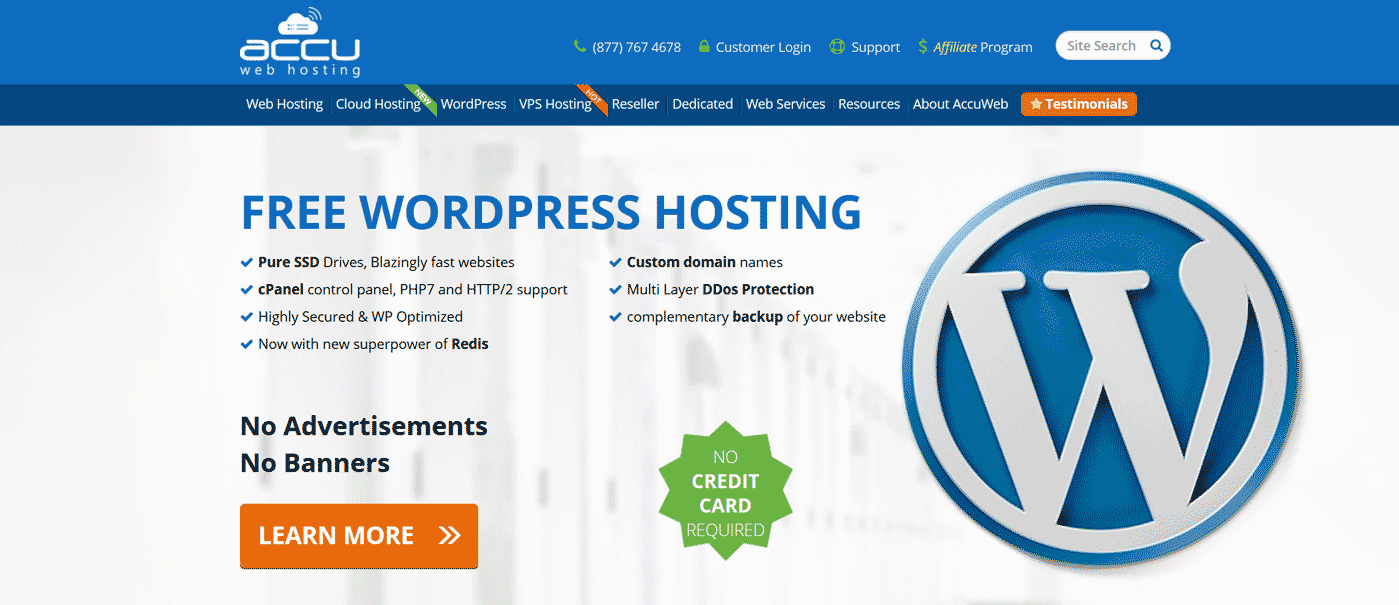 AccuWebHosting is a free WordPress web hosting company based in the US. It provides world class hosting facilities to the international community for about 10 years.
They are proud to provide advanced technology together with brilliant customer service and offer over 55,000 web hosting accounts with a diverse range of repeatedly useful hosting services like shared hosting, VPS hosting, Cloud hosting and Dedicated Servers, running on both Windows and Linux platforms.
Features:
1 WordPress website, 2GB storage, 30GB bandwidth
Ideal for visitors upto 5,000/mo
Pure SSD Drives, Blazingly fast websites
cPanel control panel, PHP7 and HTTP/2 support
Highly Secured & WP Optimized
Complementary backup of your website
No Advertisements, No Banners
Pros:
Highly configurable dedicated server and VPS hosting plans
Brilliant uptime and customer support
Economical
Cons:
Overabundance of plans can confuse new users
Automated WordPress management settings may dissatisfy advanced WordPress developers
Awardspace has over 15 years of experience in free WordPress hosting . It has come into being out of the joint scheme of its mother companies, i.e., Zetta Hosting and AttractSoft. Awardspace.com offers services from free, shared hosting to VPS hosting. It claims to be flexible and adaptable.
Awardspace is different and its name has been coined in the free hosting space by being green about their initiative. This is because the servers indeed, are run by Wind Energy. This is done by offering 99.99% uptime for their free hosting clients. Compared to the rest of the free web hosts, The demand for this particular service was great and it became the epitome for providing free PHP and MySQL hosting with no banners and no expiration date.
Features:
Storage: 1GB
Domain: Hosting for 1 domain and 3 subdomains
Bandwidth: 5GB
Email: 1 email account
Inbuilt website builder
Uptime guarantee
Money-back guarantee
Unlimited disk space with paid plans
Unlimited traffic with paid plans
24/7 dedicated support
Pros:
Test before you buy option
Free dx[dot]am Domains to all
Friendly support staff
Impressive free plan
Green hosting options
30-day Money back guarantee when you sign up
Cons:
30 MB limit on MySQL Database size
Free hosting plans are minimal in features and power

000webhost is providing free WordPress hosting since the last decade. The 000WebHosting servers are great for WordPress beginners in web hosting.
Free Website Hosting using the ultimate 000webhost covers about 2 websites, 1000 MB disk space and 10,000 MB bandwidth. 000WebHosting also offers 2 MySQL database and a free website builder. Being known for its no cost hosting solution, 000Webhosting also offers a premium hosting plan which comes with expensive features for reasonable prices.
Features:
Storage: 1GB Disk Space
Domain: Free subdomain
Bandwidth: 10 GB
Free FTP and File Manager
CGI and PHP
Free site builder
Pros:
Responsive customer support
Free wordpress hosting no ads
Good quality of servers
Cons:
Possible downtime for an hour daily..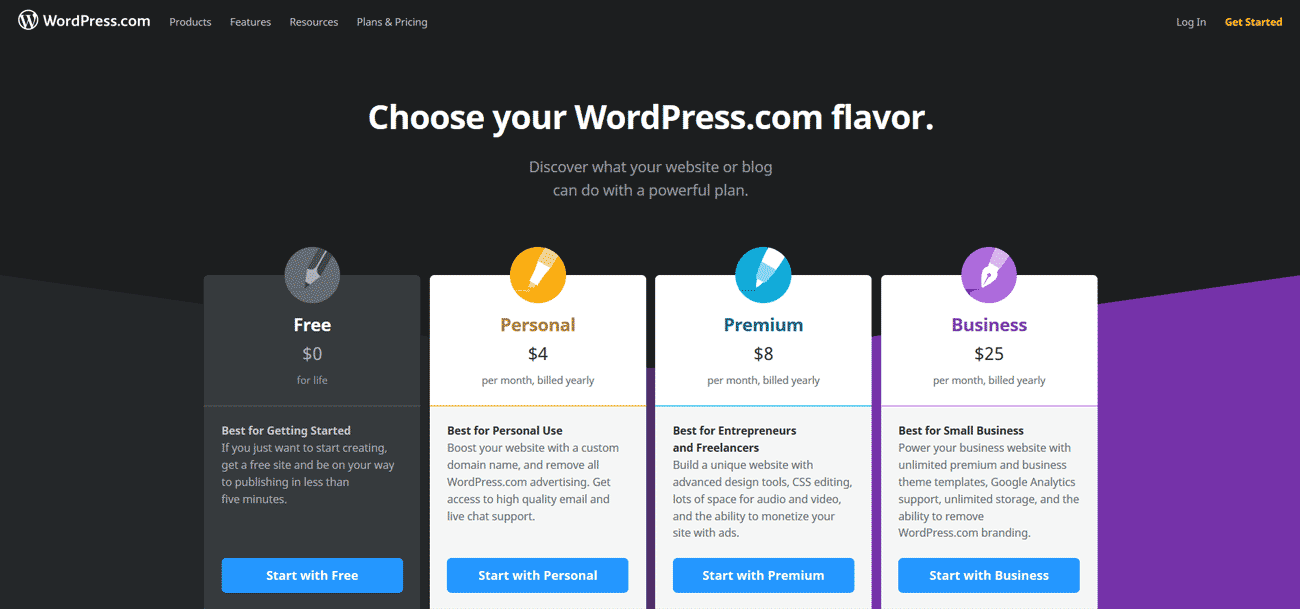 At WordPress.com, you can start a blog or build your website. WordPress is an online, open source tool so as to create your own website written in PHP. The sites you create are kept free of cost by presenting great upgrades for things like Plans, custom domains and products like anti-spam software, Akismet and VIP hosting partnerships with major media outlets.
WordPress.com offers free WordPress hosting and open-source content management system (CMS) based on PHP and MySQL. It helps the users enjoy features like a plugin architecture and a template system. It supports all types of web content such as typical mailing lists and forums, online stores and media galleries, but is mostly related to blogging.
WordPress is the most popular website management system in use being used by more than 60 million websites. It has also been used for other application domains like pervasive display systems (PDS)
Features:
WordPress.com is SEO-friendly
It is simple to use
Helps save and make money
Excellent user experience
Pros:
User-friendly CMS.
50,000 mostly free and paid plugins available
SEO plugins available
Very responsive
Cons:
Low speed
Customization can make it expensive
Ads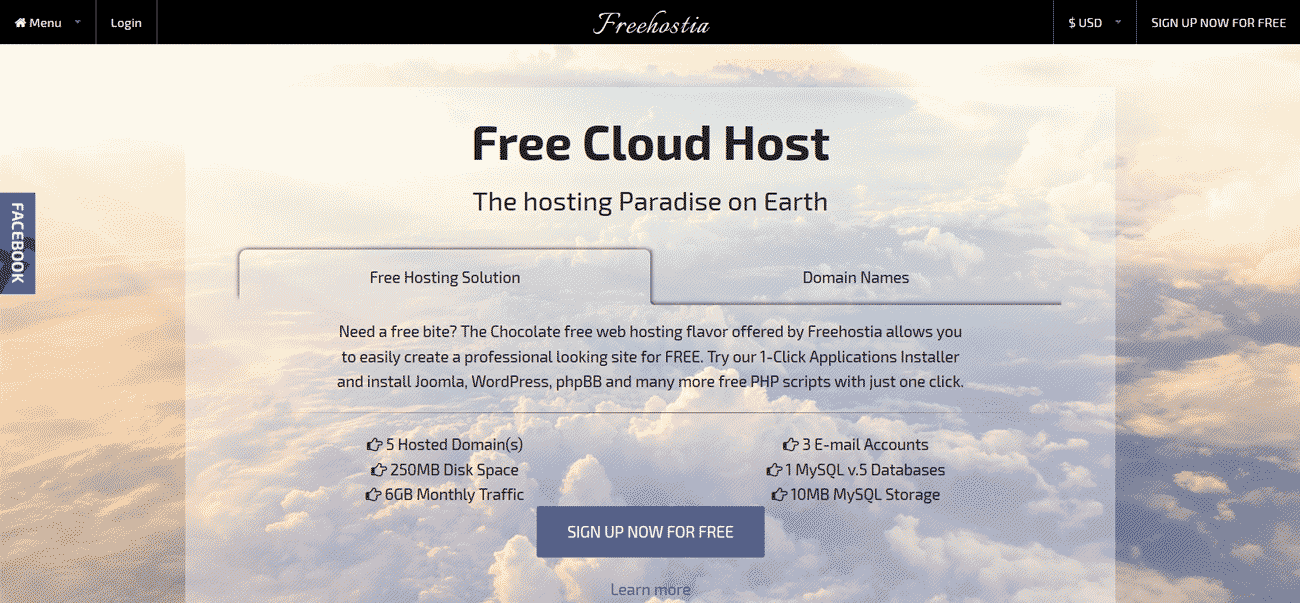 Freehostia.com was founded in year 2005 and has been functioning for 13 years now. They do have a single free hosting plan to install WordPress. This plan offers 250 MB space, 5 GB bandwidth, 5 hosted domains, 3 email accounts and has support for MySQL databases. It must be noted that however, it includes just one database and can't exceed a size of 10 MB. Freehostia.com provides one of the fastest growing free hosting providers and the reason for this is the fact that they have one of the fastest servers, a fully featured free WordPress hosting plan with no ads and low-cost paid hosting plans with brilliant features.
The server speed is great. And all the features, including PHP, FTP, etc., work well. So in case there isn't the requirement of a lot of space for MySQL database, freehostia.com may be a wise choice.
Features:
Disk space: 250 MB
Monthly traffic: 6 GB
24/7 customer support
No set-up free
eCommerce functions and integration possible
5 Hosted Domains
3 email accounts
1 MySQL v.5 Databases
10MB MySQL Storage
Pros:
Cheap prices of the shared site hosting plans
They offer domain and hosting services in multiple data center facility sites such as the USA, Britain, Scandinavia and Australia.
Full-Time involvement with the online demands of the customers
High speed server network
Load balancing cluster technology that guarantees maximum online stability
Cons:
Customer support not that great on free hosting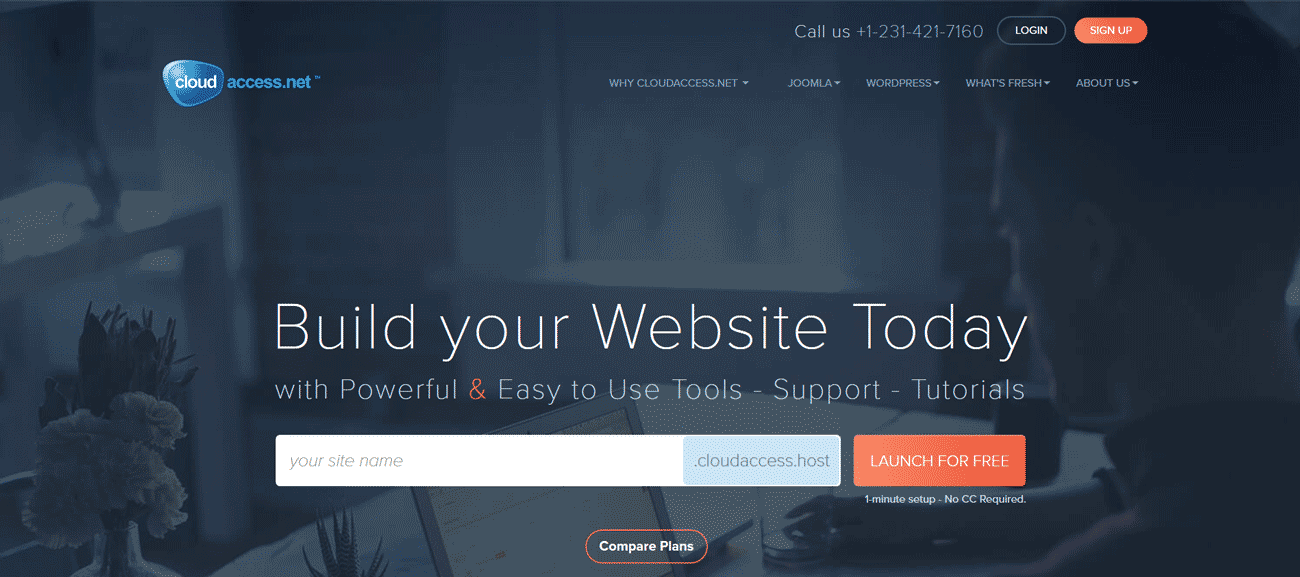 The CloudAccess.net Platform is created for Joomla and WordPress Hosting. They offer great support services such as the free tutorials and an industry-leading Support Team which is always ready to help clients design their Joomla or WordPress websites. CloudAccess.net is a free hosting for WordPress company created out of open source values which is one of the best ideas to help the WordPress community
Cloudaccess.net offers to provide basic Cloud Control Panel™(CCP) features such as the one-click Site Replicator as well as App Snapshot tools etc. In addition to that, they keep your sites safe by taking daily backups of your site. They offer great improved cloud servers that are designed particularly for the WordPress CMS. By fine-tuning both MySQL and Apache, WordPress websites hosted on cloudaccess.net platform perform noticeably faster than any other.
Features:
500MB Disk Space
1 CPU Core
1 GB RAM
Free Subdomain
Unlimited bandwidth
Unlimited email addresses
Pros:
Easy Cloud Control Panel (CCP)
Competitive prices
Expert support
Incredible affiliate programs
Nearly 10,000 satisfied clients
Cons:
If you have hosting requirements other than WordPress or Joomla, CloudAccess may not be the best choice for you.

It is a known fact that Ads are an appealing source of income for companies looking to offer free services. Therefore, it is a key step to find a free WordPress hosting company that can support your WordPress needs without the annoying ads bombarding your customers to keep a clean, focused website.
Freehostingnoads.net is a plan which offers all the features and tools that you can find at a paid hosting plan. It offers you to host unlimited websites, use your domain names or get a free subdomain. There is no limit to file size, no forced ads, FTP support , PHP support, MYSQL support, POP3 support, free website builder and hosting, Script installer, SSH access.
Features:
20 GB space
200 GB traffic
3 PHP Versions
Free Site Builder
POP3 Email Account
Host Your Domain
Free URL like You.t15.org
Bandwidth 200 GB
Webspace 10000 MB
Pros:
Free subdomains
Free tools
Free PHP hosting
No forced ads, annoying text links or banners
Cons:
No up-time guarantee

Being a business owner, one needs to have the technical support that's needed when required. Byet.host is a rare breed in the free WordPress hosting site industry which offers free 24/7 customer support with their basic hosting package. This means that the users can enjoy a free IT person for when any disaster strikes, such as a server going down, your website crashing, or technical problems, there is always someone to seek help from.
They have an experience worth 10 years having hosted over 1,000,000 websites offering both free web hosting and premium web hosting services. All their hosting services are packed with hundreds of features, for instance, PHP, MySQL, FTP, Email, Softaculous one click script installer, site builder and much more.
Features:
1000 MB (one gigabyte!) Disk Space
FTP account and File Manager
Control Panel
MySQL databases & PHP Support
Free tech support
Addon domain, Parked Domains, Sub-Domains
Free Community Access (Forums)
Clustered Servers
No ads!
Https SSL on all free hosting domains. (self-signed certificate)
Pros:
24/7 customer support
Ad-free hosting
Inexpensive upgrading
Cons:
No website builders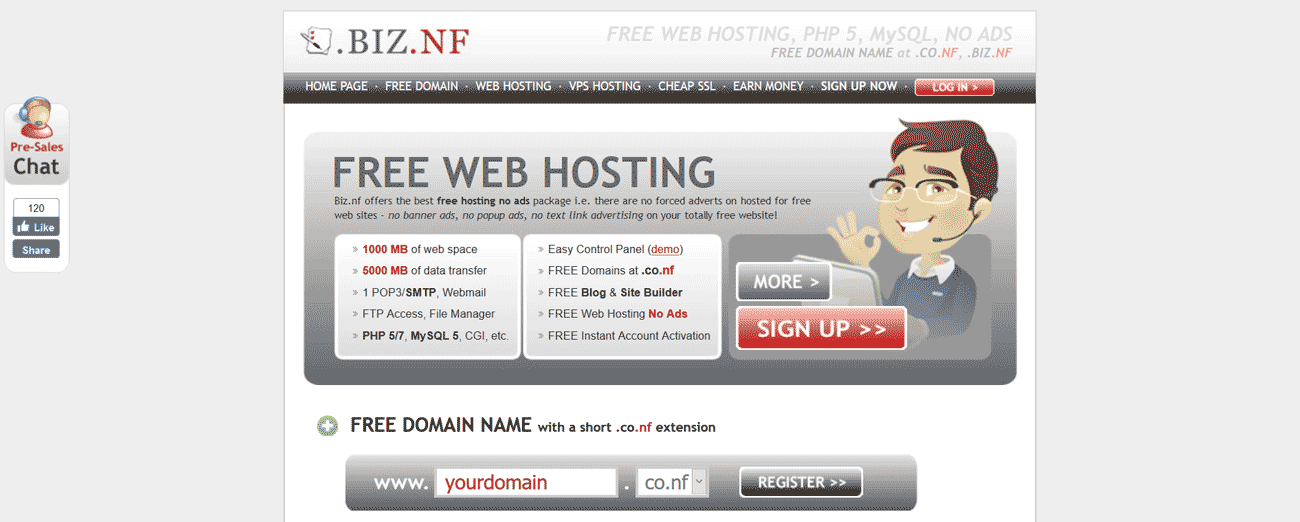 Biz.nf has been providing a reliable and totally free web hosting service since 2008. It includes all features that are needed to make your own creative, free website. They offer features like 1-click site builder tools, 1-click installation of WordPress blog and Joomla website, and advanced PHP, MySQL and CGI solutions for experienced web hosting users. The unique features of Biz.nf free hosting includes that of registering a free domain name with .co.nf extension (www.yourdomain.co.nf) and allows enjoying free WordPress hosting without ads.
Biz.nf proudly focuses on being the "green" web hosting provider and all their web site hosting operations are 100% renewable wind power. Therefore, while Biz.nf free WordPress web hosting plan, you won't have to worry about ecology!
Features:
Storage: 1GB Disk Space
Domain: 3 Free Domains at .co.nf
Bandwidth: 5GB bandwidth
Email: 1 email account
Pros:
Free plan includes 3 FREE domain names at .co.nf
Free website builder (+ WordPress and Joomla 1-click install)
Green web hosting, i.e. Biz.nf uses 100% renewable green energy of wind power
Cons:
Free hosting plan is rather small (space, bandwidth, MySQL, email)
Limited guarantees of uptime and response times for free hosting plans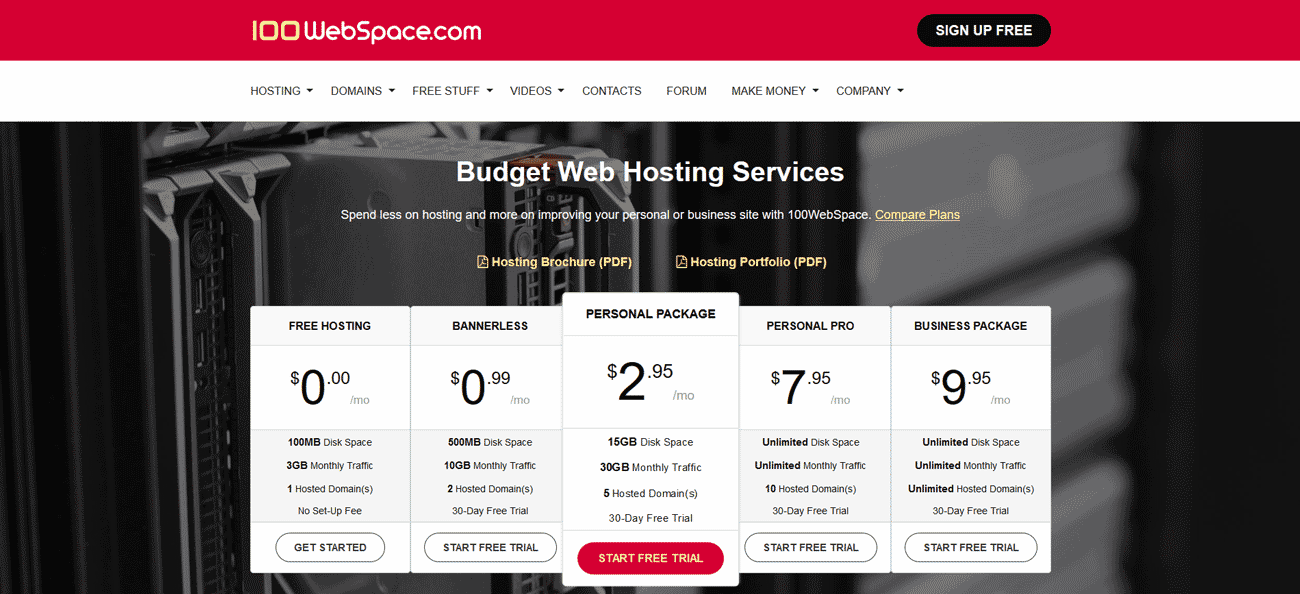 100WebSpace has set upon a mission to provide a stable web hosting service for those users who are following a budget. Their users can avail their free package and try out this platform since it is risk-free. Next, the users can simply choose from any of the low-cost web hosting plans offered by 100WebSpace to enjoy even more features.
Half a million people trusted 100Webspace with their websites since 2004 since it is a trusted, experienced and a fast growing web hosting company. With 100WebSpace, the users can enjoy various enhanced features like Bandwidth limit 3 GB/month, autoresponders, SSL, MySQL database, Statistics, instant activation, file size limit 500 KB.
Features:
100MB Disk Space
3GB Monthly Traffic
1 Hosted Domain(s)
3 E-mail Accounts
Multilingual Control Panel
1-click Applications Installer
24/7 Customer Support
1-hour Ticket / E-mail Response
Pros:
Risk-free service
Friendly control panel
24/7 technical support
Stable high-speed servers
High uptime
Cons:
Small banner at the top of each free hosted site
Want my opinion? Here's what I recommend..
You must be aware that free WordPress hosting would only help you learn how to use WordPress and other related things like themes, plugins as well as modifying your own blog or website and features. Otherwise, it would be advised to you to always use a paid premium WordPress hosting from a company that has already been known for its reputation and quality. This would make your blog or website run smoothly, efficiently and safely. Also, you should never host your high traffic website on these free hosting since they can suspend your account anytime without any warnings or reasons.
I recommend Bluehost, it is not free but it's very inexpensive hosting available at $2.95/m with unbelievably amazing options. They offer 24/7 live support and money back guarantee. The most charming thing about Bluehost is that you can get any type of website you want at most affordable rates. If you want your business to flourish then Bluehost is the correct choice for you.
Take first step to start your professional blog. Signup with Bluehost
Signup now
60% OFF + FREE $14.99 Domain
Did I miss anything in this post? Which hosting are you using free or paid?
Is it really worth using free hosting services for your blog?