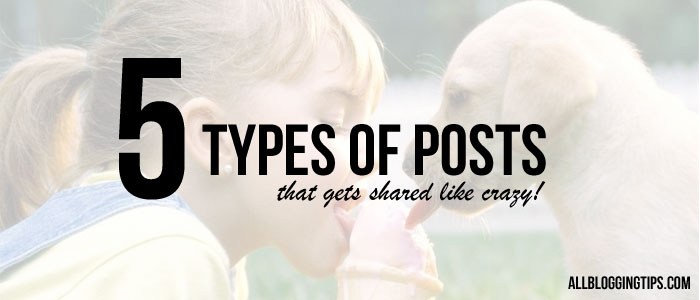 So, you are working hard on your blog. You are trying to write the best content you want and you are also trying to get it shared and linked back. But, do you think that you are getting the results that you want? If your answer is "NO!" then continue reading.
Because today I am going to tell you the type of blog posts you should be writing to get more shares and link backs to it. So, keep roureading and get ready to get the blog traffic you should be getting to your blog.

So, here are the 4 types of blog posts you should be posting on your blog to get more shares, likes, comments, backlinks and traffic.
1. Top List Posts
Top list posts are one of the hot things in blogging, today. Top list post are tend to get much more social shares than other traditional blog posts. Top list posts are the kind of posts that always work because of their attractive headings.
Examples :
The Post You Are Reading Right Now!
How To Make A Top List Post?
The best part about making a top list post is that it is really easy to make one. Yes, easier than the traditional blog posts.
Let's take an example that you have to do a top list post on "Top 15 Ways To Drive Traffic To Your Blog". So, here is how you would do it –
Step 1 : Open up notepad and write the top 15 ways you can think of to drive traffic to your blog, in this case it goes –
Share Your Content On Social Media
Let your current subscribers know
Do Guest Blogging
and so on….
Step 2 : After you have written the 15 points just go to your blog to write the post. Give an introduction, and detail all the 15 points that your wrote and you are done.
Writing Top list posts is that easy!
2. Publish Free Guides
Publishing free guides is another cool way to get more social shares and traffic to your blog. This is all because a guide would have both quality and quantity that means more quality information and people would share it because it is free of cost. It also tends to get more comments.
Examples :
How To Write Guides
Writing guides could be an easy job if you have expertise in any topic. So, just make sure that you are just writing guides only if you are having expertise in anything. For example, if you think that you have expertise in, "How to start a blog", then all you need to do is assume that your readers don't know anything about blogging. So, start from the very basic level and write in very easy to understand language and at end of the post you can add something like, "If you loved the post, don't forget to share it" and that should do the trick.
3. Interviews
Interviewing a popular blogger in your niche can get you a lot of social shares because the blogger whom you interviewed would also share it. Thus, you would also get his fans to your blog.
Examples :
How To Take Interviews
You can follow the following guide to learn taking interviews from popular bloggers – Guidelines you must follow before interviewing a blogger
and after publishing the interview don't forget to ask them to share it with their followers!
4. Featuring Someone
Featuring someone is same as taking interviews but for interviews you would need to ask questions but for featuring someone you can do it with the blogger's permission and let him know when you have published the content.
Examples :
5 Bloggers To Follow Right Now To Learn Blogging
How To Feature Someone
Featuring someone is no brainer. All you have to do is, if you like someone and you think that you can write about him. Just write a post about him and let him know. You can also feature a bunch of people and then let them know that you featured all of them and ask them to share the post.
5. Expert Roundups (a.k.a. Group Interviews)
This technique would get you the a lot of blog traffic even if you blog is brand new. In this you are actually asking many expert the same question and featuring many of them at the same time and the results are amazing because all of the top bloggers you featured would share it with their fans.
Examples :
35 Experts Reveal Their Top 3 Tools To Increase Blog Traffic
How To Write Expert Roundups
To write an expert round up, just think of a question you would like to ask from all top bloggers in your niche. Let's say you have to ask the question, "What are the top 3 SEO strategies for you?".
Now, all you need is a list of about 80-90 top bloggers in your niche and you need to email them all asking the question. Tell them that you are doing an expert roundup and then ask them the question. Let them know that you would link to their website too. Many of the bloggers would answer to your question and some may not answer. Once you have a descent number of answers then just do a blog post on it writing each bloggers and answer.
Tip : Try to target the bloggers who have already answered previous expert roundups because they are more likely to answer your expert roundup too.
Conclusion
Make sure that you do these 5 types of posts on your blog to get more social shares and blog traffic. Make sure that you are delivering quality content because more the quality is the more likely it would be shared.
So, what are to top posts that gets more social shares and traffic for you? Comment Below!