Rise Forums is a brand new private discussion forum that was created specifically for bloggers and internet marketers. I launched the forum as a way of providing help and feedback to aspiring bloggers. In the past, I would do this through email and video consultation, however I have always been of the opinion that discussion forums are the best way to provide direct support to people are there is a public record of all previous support queries and discussions.
The forum is completely different to other internet marketing forums such as Warrior Forum and Wicked Fire. It is not a place where experienced members are trying to sell informational products to newbies. Rise Forums is a community where members genuinely try and help fellow members out. That is what makes it so special.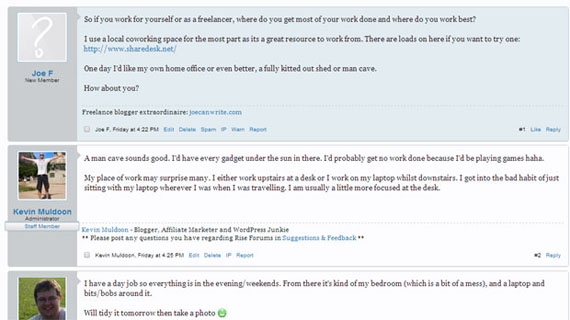 A membership for Rise Forums retails at only $97 per year. That works out at only $8.08 per month. In addition to connecting with other bloggers, affiliate marketers and online entrepreneurs; members also get direct access to me. I will be offering my thirteen years of experience from working online to help members directly.
The problems that members face varies greatly. Some are just looking for feedback and advice on what direction to take their blog. Others are looking for help with the technical side of working online. Whatever the problem, our goal is for us to do everything we can to help members in any way we can.

To celebrate the launch of Rise Forums, we have teamed up with All Blogging Tips to offer three lucky readers the chance to win a free yearly membership.
How to Win a Membership to Rise Forums
Entering our competition for a Rise Forums membership is easy. All you have to do is enter is leave a comment on this post explaining why you need a membership at Rise Forums. Then simply register your entry using the RaffleCopter box below. Additional entries can be gained by following All Blogging Tips, Rise Forums and sharing this post.
Learn Blogging With RiseForums : Win 3 Membership worth $97 each
Note: Share this giveaway everyday to increase chances of winning.

The deadline for the competition is 30 November 2013. We will announce all three winners on 1 December 2013 (This is very special day for this blog). Good luck to everyone who enters :)
Thanks,
Kevin