Your 'about me' page is an inside look for your readers.
From here they hope to gain insight on the qualifications of your expertise, details of your life or business, and how you will help them as a reader. Social Media Examiner's research shows that people are almost as likely to share the information they read in Blogs as a newspaper or magazine. With Facebook and Twitter at every blog reader's fingertips, you want to fashion a blog they'll send out to all their friends. A stellar about me page could be the deciding factor.
In this post I'm going to tell How to Make The Most Of Your About Me Page? :D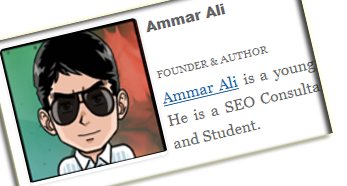 Making The Most Of Your About Me Page?
Simplified
Your about me page should be very simple and easy to understand. Add following things to your about me page.
Who you are
Qualifications
Picture
What you have to offer
For them, not you
A common misconception is that this section of the blog should be used to outline every detailed specifics of what brought you to this point in your blogging career. As much as the reader is interested in who you are, they're more interested in how you can eventually help them. Let's face it, people read blogs for their benefit. Be concise in your personal details and cater them in a "you" tone.
Point out how YOUR knowledge will help THEM, to encourage their continual reading.
Details
There is nothing worse than wanting to browse though a snippet of the blog's author, and instead finding a biography on every success they've ever had. A blog's main purpose is to quickly and easily inform the reader. When your about me pageis the exact opposite, you have a problem. Not only does this become annoying, but invites your reader to merely scan through the text, missing details they may need to stay a loyal reader of yours.
Hey, I'm relatable…
No one likes to be talked down to. ;)
No one wants to read a blog that touts all your accomplishments, which can in turn make them feel inferior. The social sphere is about connecting with people who you can learn from and relate to. When you are genuine and sincere, exposing imperfections, your readers will have more to grab onto.
Check out more
At the end, you should give a suggestion to your readers. It would be wise to point them to a particular post or specific section as opposed to suggesting they take in the blog as a whole. You should direct them to a starting point; somewhere that may generate curiosity, leading them to look around a bit more. For more info check our "About Us" page
While creating an 'about me' page may seem like common sense, it's the most overlooked section of any blog. A reader wants to know that you're qualified and have something to offer, and are still on their level. This is your chance to garner a spark in your reader, toting your talents.
Did I missed any point? Do let me know in comments! :D