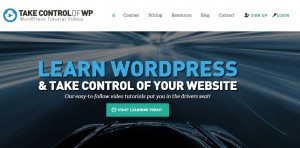 All Blogging Tips is going to be 1 year old on 1st December.
I'm so happy.
To celebrate this birthday, I'm hosting advance birthday giveaway on my blog. That is Free 1-Year Membership for 3 winners of TakeControlofWP.com
WordPress is a popular Content Management System and Web Site Creation tool, used by millions of people around the world, including The New York Times, The Wall Street Journal, Ford, CNN, NASA, Pepsi, and many more. Today, TakeControlofWP.com, a new video tutorial website launched, which teaches beginners how to setup, secure, speed-up, and analyze their own business website quickly and easily using WordPress.

Today, we've got 3 FREE one-year memberships of TakeControlofWP.com for our wonderful readers. You'll get a full year of free access to all of their courses, and other great member features.
Here are some of the topics they cover, and what you can learn:
How to purchase and setup your domain name
How to purchase and setup your hosting, where your actual website files reside
How to install WordPress, both with one-click, and manually
How to use FTP, which is how you can transfer files to your site
Learn WordPress from front to back
We then walk you through setting up your professional, modern business website quickly with both a free and premium option
How to secure and speed up your site
How to install Google Analytics to start tracking your visitors
Beside their courses, they offer exclusive member's only blog content, and Quick Tip videos. You'll also have access to WordPress experts that can answer any questions you may have.
So sign up to win now, and you could save lots of time and money on support and maintenance, and gain the skills to fully create and control your site!
Giveaway Prize:
We'll choose 3 winners and each winner will get 1-year membership of TakeControlofWP.com,  Isn't that good? Now you can learn WordPress for FREE!
Contest Duration:
This contest will be open for 7  days. So participate now!
Contest Starts – 12 November 2014
Contest Ends – 19 November 2014
Announcement date:
We will contact you through your emails for prize. So please make sure to provide valid email address while entering into giveaway!
ENTER NOW
Entering our competition for a TakeControlofWP membership is easy. All you have to do is enter is leave a comment on this post explaining why you need a membership at TakeControlOfWP. Then simply register your entry using the RaffleCopter box below. You can increase chances of winning by following All Blogging Tips and sharing this post.
Note: Share this giveaway everyday to increase chances of winning.