We already posted lots of tutorials on wordpress about Best Security Plugins,  Best Stats Plugins. Today we decided to comes with Top 5 Best Related Posts Plugins For WordPress Blogs. Every blogspot or wordpress blog must have a good Related plugins because they are most important to give good experience to your visitors and it will Force Visitors Not To Leave Your Blog. Without wasting any time let me show you some Top 5 Best Related Posts Plugins For WordPress Blogs.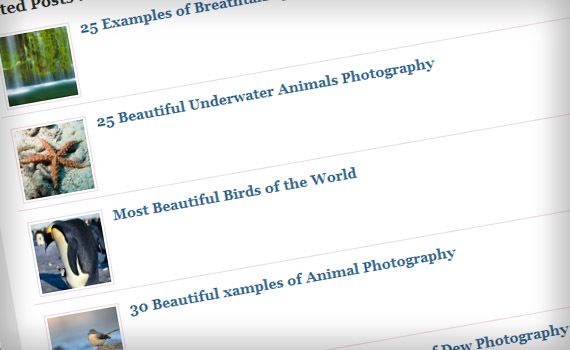 A simple clean yet stylish WP Related posts plugin. It Display a list of related posts along with thumbnail images of those posts for the current post.You can select the number of posts to be display on articles or on feed.You can choose to exclude posts from certain categories as well as exclude pages.
Yet Another Related Posts Plugin (YARPP) gives you a list of posts and/or pages related to the current entry, introducing the reader to other relevant content on your site. It is best related post plugin easy to configure and use. But it have no thumbnails with related posts..
3. nrelate Related Content

   The best way to display related content: Thumbnails or Text, on all your pages.  One of my favorite Best Related Posts Plugins For WordPress. It is very easy to use. It contains 5 skins which you can change hover, different thumbnail size etc.
WordPress Related Posts Plugin will generate a related posts via WordPress tags, and add the related posts to feed.  It also contain option of adding thumbnail. One of disadvantage is it contains a link at end of post as far as we know. But over all it is best easy to configure.
This plugin will add related posts thumbnails after the post. Plugin allows to customize thumbnail sizes, display settings and type of relation. This is at no.5 Related Post PLugin
That's all. If i miss any best WP plugin then let me know in comment section.