Video blogs, or vlogs, are not new on the Internet. Long before YouTube, people shared their news and opinions in the form of a video. Still 10 years ago it was rather expensive. Today, with cheap web cameras, camcorders, free video capturing and editing software, and numerous platforms to share video posts, video blogging should be flourishing. However, this is not true. Most bloggers are wary of getting into video blogging and the reasons are well understandable. Let's explore the main of them and try to figure out if video blogging is worth time and effort.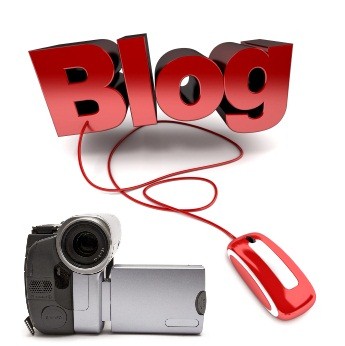 Topic for Video Blogging

The first thing you have to decide after the blogging format is the theme of your video Blog: traveling, cooking, tech tips, politics, social media optimization, or any other of the kind. Note that the topic should be captivating and you must feel an expert in it. Try to record a trial video post and estimate if you sound convincing enough to speak upon this topic all the time.
Self-presentation
Those who are not afraid of cameras and confident enough to speak in public, may benefit from the so-called "talking head" posts. However, not all people are "videogenic" and feel comfortable in front of a camera. If you belong to that group, it's better not to start, or at least think about some alternative way of video presentation. E.g., you may make software reviews or how-to's by capturing your desktop, use free video tools to produce slideshows, cartoons, short clips, etc. Here is the list of helpful resources:
– Snaggit to capture video screen;
–

YouTube video creating tools

to make cartoons, funny animations, etc.
– Animoto to make slideshow with music.
Hosting
If you'd like to store videos on your website, you should consider hosting expenses. To convert video into web format and get ready embed code, use Freemake Video Converter, it's free and easy to operate. Alternatively, you may keep your videos on YouTube, Vimeo or other video hosting site. Thus, your videos would be easily found on YouTube and Google and you'll get additional traffic to your resource. The drawback is that your videos could be ripped and used on other sites, and you'll be always dependable on YouTube broad width capabilities.
Video making skills
Though you may find a good video making and editing software, you have to skilled enough to use it. Nobody speaks of Adobe Premier or AE mastery, still a good knowledge of at least Windows Movie Maker is a great bonus.
Video marketing
Don't think that you're done as soon as you published a video post. What differs video content from a regular text post is that all you're going to say will remain only as video frames. This is in terms of search engine optimization isn't good, because an HTML page should contain text. One workaround is to publish a script of your video. Another is to combine the video with a short text description highlighting the key posts of your post.
It's also advisable to add each new post into video sitemap. This will guarantee better search engine results for your videos. Take care of creating a SEO-friendly title and description and add social sharing buttons under the video.
Bottom line
In total, you should try video blogging if you:
are 100% sure in your knowledge of the chosen theme;

feel comfortable in front of a camera;

can afford video hosting or trust YouTube to host your videos;

are capable of video editing or at least can pay for it;

know how to market your video posts.
These are 5 components of a successful video blog start. However, a good beginning isn't even a half battle. Content is the king, so the key point here is to be interesting to your readers and find inspiration for new creative posts. Good luck! :)