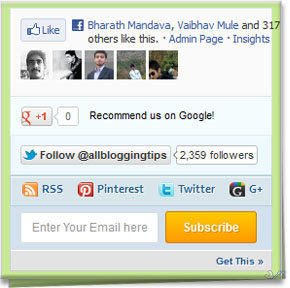 Recently we shared Mashable Style Subscription Widget v1 with you. Lots of our readers found this great widget. Some asked us to improve this and add some more cool features with more social profile likes like Pinterest, Facebook, Twitter, RSS.You can add Mashable Style Subscription Widget to your wordpress or blogger/blogspot blogs easily.  Mashable Style Social Subscription Widget v 2.0 is an attractive subscription form that will further increase the number of your Email subscribers. To Check demo copy and paste given below to our html editor
Features Of New Mashable Subscription Widget v2
Facebook Likebox
Recommend us on google+ button
Twitter Follow us Badge
Social Icons like RSS, Pinterest, Twitter and Google+
Feedburner Subscription Widget
Adding New Mashable Style Social Subscription Widget
You just need to place a code to your blog widget Follow following steps to add New Mashable Style Social Subscription Widget to WordPress and Blogger.
Adding To Blogger
Go to Design > Page Elements.
Click Add A Gadget.
In Add A Gadget window, select HTML/Javascript .
Copy the code below and paste it inside the content box.
Save the gadget.
Drag the gadget and reposition it under Blog Posts gadget.
Click Save button (top right hand corner).
Adding To WordPress
Go to Dashboard > Appearance > Widgets > Available Widgets.
Drag Text widget into a sidebar.
Paste in the code.
Save.
After download and pasting code kindly Make these important changes:
Replace AllBloggingTips with your Facebook , Twitter, Google+ and Pinterest ID
Replace AllBloggingTips with your feedburner  link.
Replace Google+Profile Link with your Google Plus profile link
5.   Hit save and you are all done!
Visit your blogs to see it working just perfectly.  if not drop comment below with problem and screenshot ;)
I have set the width of the widget to 270px. If in case your sidebar is small or big, you may then have to adjust the two width values in brown highlight color. The first will set the width of the entire container and the second value will set the width of the subscription input box.
Credits:
You are most welcomed to share this widget with your readers. You will have to give credits to AllBloggingTips blog by attaching a link back to this post. You may also give credits to the author for the wordpress version of this sharing plugin. :D