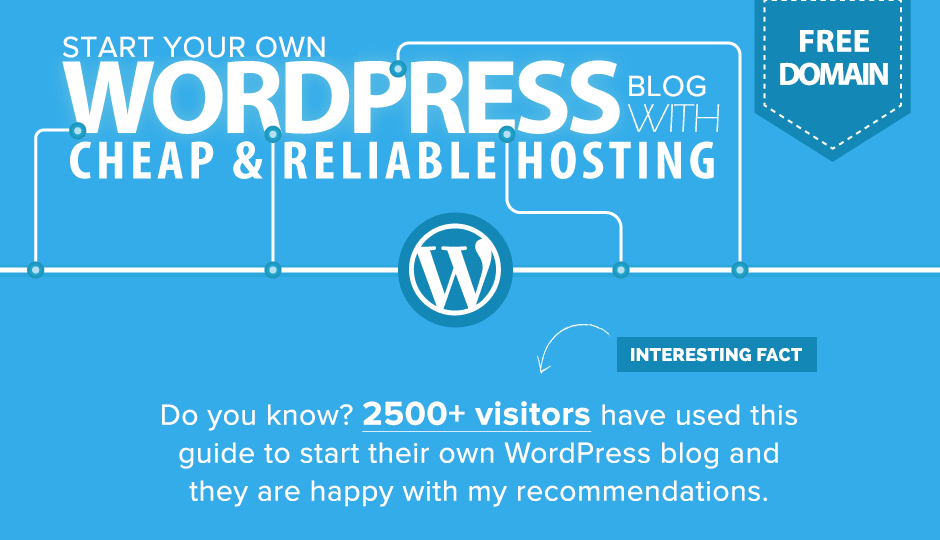 I've got some good news and some bad news…
The bad news
Choosing the right web hosting is one of the most important decisions you will ever make when starting your new WordPress blog. In fact, It is going to be the decision you will often make if your website starts growing in size, traffic, and popularity.
And guess what?
If you make the wrong choice, you could end up with a slow and unresponsive website that will not only scare away the visitors that come your way, but a slow loading website can even eat up your search engine ranking and growing audience even before you've started.
And the good news
You're going to be the next professional blogger or entrepreneur and I want to help you succeed. The first step is to choose a reliable hosting that you can trust.
Over the last 5 years, I've tried almost all best and inexpensive WordPress hosting companies including iPage, Godaddy, Bluehost, Hostgator, Siteground, InMotion and Site5.
I've incredible experience at choosing the best and cheap WordPress hosting for your blog. So to ensure you choose the right web host for your WordPress website, I've created this guide covering the best cheap hosting companies for WordPress. I only recommend products I personally use.
I also recommend you to avoid Godaddy, iPage and HostGator. These are the worst companies out there with full of negative reviews and your business won't be safe with them.
So here are recommendations based on my personal experience, customer reviews, and evaluation of the services and features they offer.
Cheap WordPress Hosting Companies
Whether you are starting a new WordPress blog or are unhappy with the poor performance of your current hosting, here is the list of cheap WordPress hosting companies of 2018.
Rank
Company
Price
Features
1

InMotion Hosting
$2.95/mo

Exclusive OFFER!! $6.99 $2.95/mo (Get 57% OFF)
FREE SSL
FREE SSD hosting – 300% fast loading speed
Pre-installed WordPress
Unlimited Disk space and bandwidth
FREE Domain Name
FREE Drag & Drop Website Builder & Themes
$250 marketing credits
24×7 US technical support (holding time <60s)
90-Day Money-Back Guarantee

Click to activate special discount – offer ends on June 30, 2018

Start your WordPress website today!(it's quick & super easy)

2

Bluehost
$2.95/mo

Free domain name
Bluehost hosting starts from -> $7.99 $2.95/mo
99.9% hosting uptime
24×7 US support
30 days money back
1-click WordPress install
Officially recommended by WordPress.org
Serving for 2 million sites worldwide since 1996

Click to activate special discount promo and get 60% off + free domain

3

Siteground
$3.95/mo

Free Domain for life
10GB Disk space
Supercache technology for fast speed
24/7 Technical Support
FREE SSL
Daily Backups
30 Days Money Back
99.9% uptime
Officially recommended by WordPress.org

To learn more, visit http://www.siteground.com
My recommendation
If you're looking for fast, secure and trusted hosting overall then InMotion hosting is best for you. I'm using this web hosting and couldn't be more than happy with them. Their support and service are excellent plus their renewal rates are very low. Unlike others, you can host 2 websites on the basic plan. If you don't like their service you can ask for a full refund in 90 days.
Bluehost is another great option for long term and the basic plan is slightly cheaper than InMotion hosting but their servers are slow. Siteground's basic plan is also a great option. However, their renewal rates are 3 times as much as their signup rate so choose wisely because they offer only 30 days money back.
1. InMotion Hosting
InMotion hosting was started back in 2001 and has gained the good reputation as one of the most professional hosting companies around. They are a CNET Certified hosting company and got 3 out of 3 stars from CNET, which is an excellent rating.
Whether it's for personal or business use, their cPanel interface makes setting up new website simple. They provide US based 24/7 customer support. They also provide 99.9% uptime for their servers.
If you are looking to build a beautiful new website, you will be provided with a free website builder called BoldGrid, free pre-loaded themes, full customer support, free marketing content. The website will be built on a robust platform, you can easily drag and drop files in it. And the best part of creating your own website is time saving, yes! With these services, you can easily build your mind blowing website in just an hour. BoldGrid is pre-installed with all InMotion hosting plans you buy. BoldGrid is a web builder created on top of WordPress. It was specifically built to make WordPress easier to use when creating a website.
Best thing I like about InMotion hosting is that their servers are monitored 24/7 and backups are processed on a daily or weekly basis.
They have good knowledge database; where you can find out how to get started with your hosting account, learn from video tutorials and screenshots.
I would personally recommend all the readers, to come visit the InMotion cheap WordPress hosting service. I assure you that you will love to have their services. Wait, I forgot something, you will also win up to $250 for free advertising credits with any hosting package plan. Isn't that amazing?
Start your own professional blog! $2.95/m
InMotion Hosting Features
InMotion hosting is one of the best industry cheap WordPress hosting providers and is well-known for its top-notch customer supports and super fast WordPress hosting solution. Let's take a quick look at features provided by InMotion hosting:

Free SSD hosting – 300% Faster Sites: With an SSD powered hosting, your site's load time will decrease drastically giving you an edge on rankings, making site faster for the user and driving more conversions – the end result that all webmasters desire.
Unlimited Disk Space and Bandwidth: While choosing a hosting plan, the biggest problem most of us face is the bandwidth limit. You become low on bandwidth, and your website crashes. InMotion saves you from this hassle by providing you unlimited bandwidth and disk space in its regular package.
Free Domain Name: Get a free domain with any new web hosting account with InMotion. You can avail the offer at any time!
Free Drag & Drop WordPress Website Builder: If you are new to websites and are not sure how to start then BoldGrid website builder will help you create your own website within minutes. The tool is free with a hosting plan and uses drag and drop features to make impressive mobile-friendly websites from scratch. Moreover, there is no hidden backlink or script installed on your site as its made by you from scratch.
Pre-installed WordPress: You will not face any problem with WordPress, even if you are just starting out because it will be pre-installed. If not, the free one-click WordPress installation through softaculous software will be a breeze with complete documentation and online help forums. Still, if you face a problem, you can always call the 24-hour customer support provided by InMotion.
90-day money back guarantee: While other offers a 30-Day, InMotion offers an immense 90-day money back guarantee. A period of 90-day is ample enough to let you test the web hosting, its downtime, and bandwidth limit. This will allow you to make an only purchase when you are fully satisfied with the service.
$250 Free Marketing Credits: Get free marketing credits with cheap WordPress hosting InMotion. You can avail credits for Google, Yahoo and so on.
Hosting Plan Comparison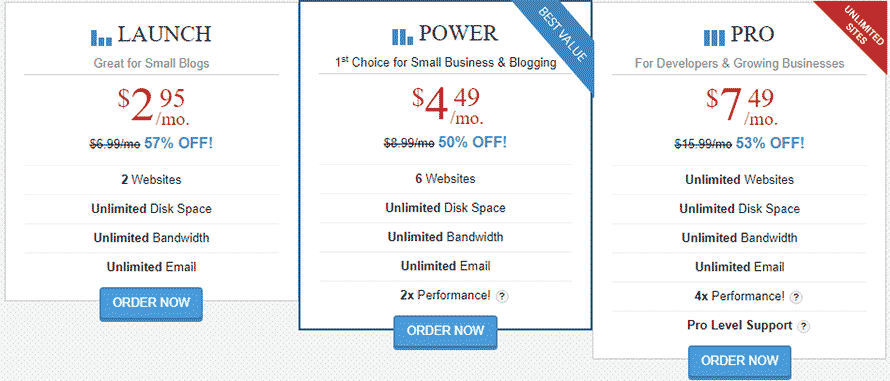 InMotion Hosting provides a great service to the people of all levels and experiences. A great facility this hosting service provides is the pre-installed WordPress on your checkout for the hosting plans. The plans are available for its customers of each level and that are, Launch, Power and Pro level. The Launch level includes the shared hosting service for all skill levels, the Power has the best value package service for starting a small business, and the pro service for the developers and also for growing services. All these three packages are available at different prices and even available on discount. Don't worry about the price. Because if we look at the services provided to us, all three plans are very cheap.
Not to mention, they have made a special offer available to you. Only through our link, you'll save 57% OFF your web hosting costs and includes a FREE domain. Isn't that big savings?
Take first step to become next entrepreneur. Signup with InMotion
Signup now (and get 57% OFF)
It's quick & easy!
Are they trustworthy?
Of course, they are in web hosting business since 2001. InMotion provides 90 days money back guarantee while other provide only 30 days or 45 days. InMotion guarantees 100% customer satisfaction, which means you will get reliable hosting and professional service, or get you get money back. If you're not happy with them you can simple ask for the refund.
InMotion Account Management Panel
Currently, I'm using their Business PRO plan and here is the screenshot of InMotion AMP (Account Management Panel). It looks pretty neat and professional.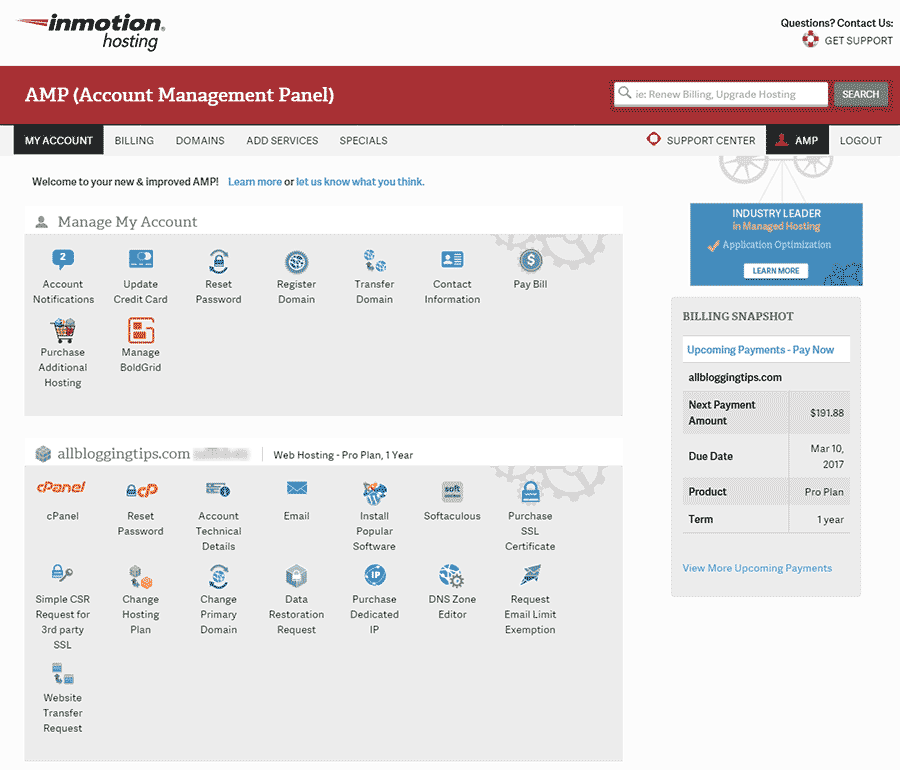 Convert your big idea into live. Signup with InMotion
Start a blog in minutes!
57% OFF + FREE Domain Name
2. Bluehost
Bluehost is oldest web host started in 1996, Bluehost is now popular cheap WordPress hosting provider. The special thing is that they are officially recommended by WordPress.org because of their quality service. Bluehost hosting is optimized for WordPress. You will never have to worry about the slow website and can handle the good amount of traffic. Not to mention that they have a special offer for AllBloggingTips users.
Bluehost is one of the biggest names in hosting companies they provide reliable and inexpensive WordPress blog hosting and they have huge support, you can easily contact BlueHost via phone and they will take care of the rest.
Bluehost is the best cheap blog hosting provider because they are officially recommended by WordPress.org and they specialize in WordPress. In fact, they provide cheapest WordPress hosting and is the also the cheapest way to host WordPress blog.
There are thousands of bloggers are using Bluehost web hosting for their WordPress blogs and they are happy with that. What I like most about Bluehost is they provide cheap WordPress hosting and FREE domain name.
With all their plans you'll get a free domain or domains (depending on what plan you are using). Bluehost is awesome because of their 24/7 USA based customer support center. You can start with Bluehost as low as $2.95/month.
Pro Tip: If you want to get maximum discount on Bluehost. Signup for 36 months to get hosting as low as $2.95/month.
Sign up today! $2.95/month(get 60% and free domain)
Let's take a look at features provided by Bluehost.
1-Click WordPress Install: Bluehost has a special CMS feature that allows users to start making their websites in minutes by installing WordPress. The powerful plugins of WordPress help them increase their reach, decrease downtime and become an authority figure online in no-time. So, whether you are using it for your blog or an e-commerce store, the one-click installation service will help you start your business in seconds.
FREE Site Builder: Even if you are not a WordPress user, Bluehost has tons of other options to get you started right away. It offers a Weebly site builder with over a hundred remarkable themes to get you started. The themes range from basic one-page websites to advance full-fledged e-commerce stores with proper item details page and payment options.
24/7 Support: Most websites out there offer support but it is in no way for 24-hours and that is where the Bluehost website hosting stands out. Whatever problem you are facing, and even if you are not a seasoned web administrator, the support representatives can help you get started with your website right away.
30-Day Money-Back Guarantee: Bluehost has great features, has low-cost, almost negligible downtime and offers a 30-day money back guarantee. You will have enough time to experience your website speed, smoothness and uptime first hand. And if you are still not satisfied, the customer support will return each dime that belongs to you.
Free Domain Name: Bluehost offers one free domain with any of their cheap WordPress hosting package. You can register your own free domain name at the time of signing up with Bluehost.
Officially recommended by WordPress.org – Since 2005: Do you know WordPress.org has officially recommended Bluehost because of its reliability and higher ratings by the user? The WordPress.org website says that if you need a WordPress-centric, easily scalable website that is powered by WordPress-experts then bluehost should be your first choice.
Bluehost is giving 60% off massive discount exclusive for AllBloggingTips loyal visitors like YOU. You can start your own blog with Bluehost blog hosting for as low as $2.95/month using our special link. Bluehost comes up with three packages. Starting with $2.95/month to $13.95/month. You can check the details of their plans on the website.
Hosting plan comparisons
Bluehost offers three standard shared hosting packages to the users. The 'basic' starts with $2.95, the 'plus' package starts with $5.45 and the 'prime' package starts with $5.45 as well. Further, you get all the features such as a cpanel, migration options, FTP clients, dedicated email addresses and of course a custom free domain of your choice.
Take the first to your professional blogging career. Signup with Bluehost
Start your blog today! 60% OFF
3. Siteground
Siteground hit the mark by offering quality-crafted hosting services. The company was founded in 2004 by the group of University friends has gradually turned into the topmost web hosting companies of the world.
With every hour, the total number of customer rises and goes high. Currently, the company proudly claims to host more than 5,00,000 domains.
The company claims to have latest speed technologies their passion and unique security solutions their specialty. Well, Siteground completely live by what they claim. The fast speed and quick server performance are the attractive reasons to go for the hosting plans.
SiteGround Features
SiteGround is a cheap WordPress hosting providers for ranging from blogs to ecommerce websites. It is one of the most favourite web hosting companies for bloggers having accounts on WordPress because of ease-of-use and 24-hour customer support.
Let's take a look at the services that make it different from others.
SuperCache technology: SiteGround has SuperCache technology installed on all its servers. What does it mean? SiteGround's servers keep an image of your website's most used pages in the cache. So your site loads in a flick whenever user visits. This feature decreases the load time tremendously and helps handle more users at the same time because of less load on the hard drives.
Pre-installed WordPress: Unlike all other website hosting services out there, Siteground has a pre-installed WordPress hosting service. This means users interested in having a WordPress blog. And those, not interested in installing WordPress, can just opt-out of the WordPress installation prompt that shows up at the start of the registration process. It's this simple.
Free Domain Forever: At other hosting services, you would have to renew the domain with the web hosting every year. But that is not the case with SiteGround website hosting, where you can get hosting with a free domain. The domain will always remain free as long as you are a SiteGround customer. So, theoretically, it is a free domain for life.
Automatic Backups: Another interesting feature of Siteground web hosting is to keep automatic backups of data for a period of 30-days at least. So if users had their website hacked, or were stuck in some other hazards, the automatic backup wizard can help restore the overall functionality of their website easily. They won't even have to contact the customer support to do that.
Brilliant customer support 24/7: Siteground web hosting service has been graded 4.7 out of 5 by whoishostingthis.com. The company has a highly reliable customer support. Moreover, its technical experts are available 24/7 to take care of users' technical queries. They have the option to either conduct a live chat, open a ticket or directly contact the representatives through a phone number.
WordPress Recommended Hosting: You might not know this but WordPress officially recommends Siteground hosting because of its exclusive features of super cache technology, automatic backups,  and an undoubting customer support. The hosting company says that WordPress choose them for their recommended list from a pool of web hosts. They did not accept any compensation and the process was all done in a genuine way.
So, what are you waiting for? If you are starting your own blog then what better option is there than Siteground?
SiteGround Plans Comparison
Siteground offers three website hosting features for different users. For starters, it has a startup package that costs $3.95/month. It also has a regular hosting package for users who get around a thousand visitors on their website. The cost of this feature is just $5.95.
My recommendation: Personally, I've had great success with these hosting companies. If you're looking for WordPress hosting for a business site which provides fast loading website, good customer and great features, then InMotion is probably the better choice plus they allow two sites on basic plan. On the other hand, Bluehost is best if you are looking for web hosting in pricing because it's slightly cheaper.
Final Words about Cheap WordPress Hosting
Instead of saving some dollars for hosting, Go for some reliable, trusted, and cheap WordPress hosting.
Out of all the hosting companies I tried. I found InMotion, Bluehost , and SiteGround to be the best one and cheapest WordPress hosting.
InMotion is amazing because of their quality service and low price. Their support team is amazing in comparison with Bluehost. I'm also using this web host and will suggest you to go for InMotion because they are cheap in price and high in quality. Bluehost is good if you want to signup for 36 months period; you can save good money.
Similarly, SiteGround also offers great quality hosting at affordable rates.
Never go for very cheap WordPress hosting which costs less than $2/month. You might save some big money but, later your site will face downtime and you will start losing potential visitors.
So if you are going to start a new venture and wants to earn some dollars you have to be serious and take a decision. You can go with my recommendation which is InMotion.
Types of WordPress Hostings
You might feel confused while starting your website for the first time and that is perfectly alright because everyone feels like that when they are starting out… but once you get the hang of it, you will be totally fine.
WordPress hosting is of multiple types and these five are the most used ones. So, without any further ado, let's find out types of WordPress hostings.
Free WordPress Hosting:
WordPress is a free content management system that allows almost anyone to make a website and get started with their digital business. If you have your own hosting then you can get the WordPress CMS and install it on your website through WordPress.org website. If you don't, then you can get the wordpress.com free WordPress hosting service.
The free WordPress hosting is for anyone experimenting with an online presence, or just maintaining a regular blog. The beauty of this service is that it is free and anyone, without the technical knowledge of making a website, can maintain it easily.
With the prominence of WordPress, many web hosts have started offering free WordPress hosting service of a limited storage capacity. That's why free hosting is never recommended. Rather, go for cheap WordPress hosting.
Shared Web hosting
Similar to a free web hosting, a shared web hosting also shares a web server. But you have the liberty to have your own web hosting account, a web manager, and Cpanel, so you can make any changes, wanted in the content of your website.
The only problem with shared web hosting is that it shares space with many other websites, and getting a lot of traffic can become problematic for your website in near future.
Shared cheap WordPress hosting can cost your something from $3 to $8, depending on the web hosting company and its packages.
InMotion is most recommended cheap WordPress hosting out of all companies out there.
VPS (Virtual Private Server)
Next, we have Virtual Private Servers (VPS). More powerful and costlier than shared hosting service, VPS servers offer a free dedicated server to anyone trying to upstart his website or transitioning from an already established one.
A VPS is a virtual server and part of a single or multiple servers stacked together. But it has its own capacity, memory limit, and power supply, allocated by the web hosting company. Due to this much liberty, the VPSs are costlier than a shared hosting server. Usually, they cost between $10 and $30, which depends on the company selling them.
Dedicated Hosting Server:
Those who are not happy with their VPS servers can go for an even enhanced version of web storage called as dedicated hosting.
A dedicated hosting is an actual server dedicated to your storage needs by the web hosting company. You can even order a custom server for your website with storage capacity and RAM of your choice. But good things come with a cost and as these dedicated servers are no easy to maintain, that's why companies charge a lot for providing a dedicated server.
The cost can be anywhere from $100 to $500 depending on the type of dedicated server you have requested.
Managed WordPress Hosting
As WordPress powers half of the web, web hosting companies have started a dedicated WordPress hosting service to cater to the WordPress bloggers.
In a managed WordPress hosting service, the web host provides automatic WordPress installation and management of your site. This means, they provide support for WordPress installation and keep the CMS platform up-to-date at all times, so you can focus on your business.
Good luck with your new affordable WordPress hosting company for your new blog!
Do let me know which WordPress Hosting you are using? Have you used any of the hosting companies I mentioned above?
Share your experience with such cheap WordPress hosting companies.