The WordPress has become the most favorite tool for bloggers and website owners. It has a great range of usability and flexibility that make it the easiest yet most powerful tool.
There are many themes available online for the WordPress and people mainly use the free themes for their blogs or website.
Am I right?
The free themes are really good enough for many but if you want to be serious with your online presence then using premium WordPress themes will be best for you. The premium themes may require you to spend some money but it will make sure of the customization and security better for your blog or website.
Read Also : How To Choose WordPress Theme?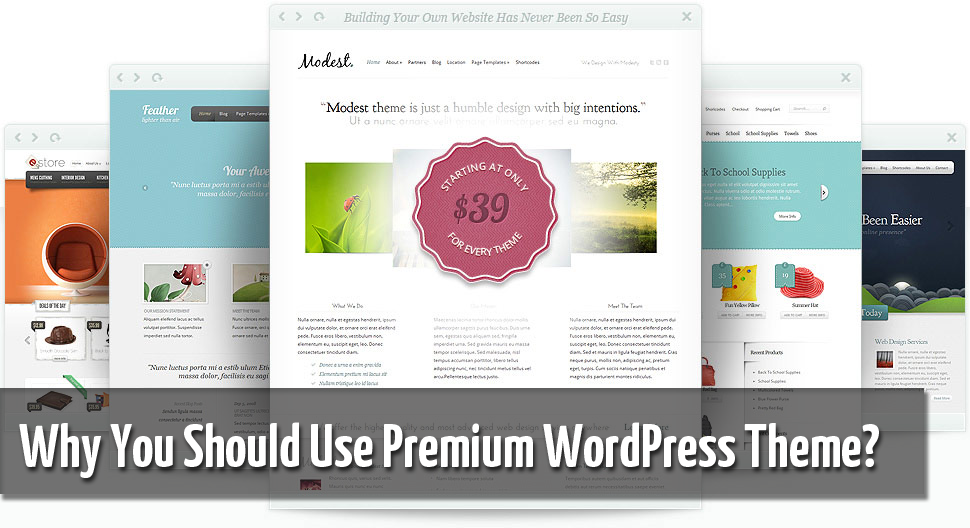 Why You Should Use A Premium WordPress Themes?
1. The design
There are many free WordPress themes which are really attractive but even those are nothing if you compare them with the premium themes. ;)
The premium themes for WordPress are designed by the most skillful designers and these themes come with no malfunctions. That is why if you want your blog or website to be attractive and more professional then go for the premium ones. That will make your web presence stronger for you.
2. Great features
The premium themes of WordPress comes with a long range of great features that make your website much better. The free themes don't come with as great features as the premium themes. There are some unique features like sharing tools,  different posting plugins and dynamic galleries which you can only get with the WordPress premium themes. This is why you must need them to make the blog or website better. There are other features of premium WordPress Themes like;
SEO Friendly Design
Widgets Ready
Elegant Design
Easy to Customize
Life Time Support
3. Theme customization
The one thing, which helps you to make your blog or website look how you want them to be, is the customizing options of the themes. The free themes have only few customization options when the premium themes make sure that you get more in-depth control over the customization of the theme. This way you can work on the WordPress theme to make it look exactly the way you want it to look.
4. They are more secure
The premium themes of WordPress are surely more secured than the free themes. The security options of free themes don't generally update themselves automatically when the premium themes do. The WordPress premium themes come with a long range of security options that make the website hack free. The options are automatically updated regularly too. That is why the premium themes are more secure.
5. Free Updates
The WordPress premium themes come with free updates. Every time there is an available update for your premium theme, it will be available for you. The theme or its features will be updated for free and this facility is available for entire life. That means your premium WordPress theme will receive required options and updated security measures when available.
6. Technical support
The technical support is a very important thing for any WordPress theme user. If you are using a premium theme for your WordPress website or blog then you will be able to get technical support from the developer of the theme whenever needed. That is a great thing for you if you are a first time blogger.
Read : Freshlife: Best Magazine WordPress Theme
Best Premium WordPress Themes I Recommend!
There're many sites that provide premium WordPress Theme. But Below I'm sharing 2 top and best, affordable WordPress Club That provide great Premium WordPress Themes!
Theme-Junkie –

ThemeJunkie provide best wordpress Themes for very low price, Professional looking, Fast loading and great lifetime support. This is one of the best wordpress themes club. Use this link and enter special coupon "35OFF" to get 35% OFF on any theme! Isn't that really cool? :D

ElegantThemes – Looking for great, professional looking, elegant style wordpress themes? Elegant themes have it all. They provide great quality wordpress themes. Get 100% complete access to their entire collection of 76 themes for only $39!
Over To You!
Do you use premium WordPress Themes? Let me know in comments!
The article by Harry. He recommend that you read about 

Ghost Box

 and when you get the time, also read about 

Ouija Board Dangers

.