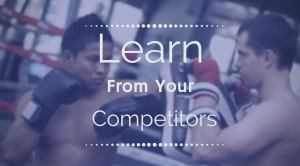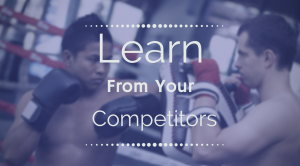 Most of the time we view our competitors like enemies.
Competition can be tough but it is very healthy and you can learn lot of things.
Instead of distancing ourselves from our competitors, why not learn something they know that we do not or something we can do differently to get ahead?
Here are few things that competitiors can teach you about blogging. Just make sure what not to do from your competitors mistakes. ;)

1. Features
Different competitors will use different features on their websites. Before you make your own website, it would be advisable to review the features they use and examine what works. You will know whether the features you like work or not. Determine the tools used by your competitors and the tools that are loved by customers.
Moreover, learn how you can use the good and workable features and make them your own. In addition, everyone including your competitors has critics. Observe what the critics say about your competitors' sites. Are there features that the clients are requesting for? Are there client complaints? Learn what not to do from your competitors mistakes.
2. Importance of keeping your website up to date
Website content has remained the integral factor in SEO success. People are always on the lookout for valuable and current content and not poor empty worded articles. There is nothing as bad as a website with 2000 affairs, events or pictures.
An outdated website is tacky and unappealing. Review your competitors' websites and the success of websites that are updated often as compared to those that are not updated often. Update your website to keep the fire and traffic going.
3. Importance of hiring professionals
Most website owners like to be in control of their websites. They update and manage the websites themselves which is okay. However, to beat competitors and achieve more, you may have to seek assistance from professional website designers and management teams.
Professionals will add a professional touch to your website, which will attract more traffic. If you want your website to live up to your expectations, then you must affix high quality attributes.
4. Your target audience
Intelligent blog owners understand their target market through examining competitor blogs and social media services. Understand the audience group that the competitors are targeting and how they are getting the message across. They could be targeting a group that you have never thought would be your audience. This way, you get to use the right channel and target the right audience. Examine your competitors markets, objectives and current customers.
5. Where to market your website
Where are the competitors pushing out their content? Twitter, Facebook, Snapchat or Linkedln. The hard and most successful rule is to go where the audiences are. Take the content to them. Therefore, take time to do some research and use your gut instincts to determine the right channels to place and promote your blog content.
Additionally, determine the right time to place your content on the right platforms. Observe when and how your competitors are most active on placing content on different social media platforms. Is timing a factor in receiving more traffic and likes?
Conclusion
In order to have a successful blog, you ought to unify all the techniques and factors used in blogging to reap earn justifiable and good results. Despite the relationship you have with your competitors, consider using their misses and hits to grow.