We all want to get more followers free on our social media sites, whether for social proof, or just so we have more people to sell to.  But how do you get people to like your stuff?
The best way to get more followers free to is to produce content that is just so outstanding that people go "wow" and can't stop themselves liking and sharing it. If you have that wow factor, then your fans will increase naturally.
However, there is a problem. Obviously you are already creating the most awesome stuff out there.
As readers of this blog I wouldn't expect anything less.
But how are people going to find your stuff so that they can see the awesomeness?  This article will outline some ways you can bring your message to the people, on all the major social media platforms and to Get Followers for Free
In particular I want to show you ways that you can get more followers free without paying any money.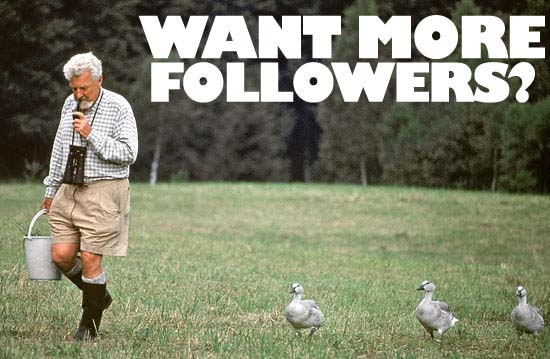 I believe that services like Facebook ads can be effective, but if you aren't also gaining likes naturally you may eventually lose your new fans! So with these kinds of thoughts in mind, I have come up with some ways that you can get more followers for free.
Get More Followers FREE on Social Media
Here are some working ways to Really Get More Followers FREE on Social Media like Facebook, Twitter, Pinterest and Youtube.
Get More Likes on Facebook
One thing that I have found people haven't realised is you can browse Facebook as your page.

To do this you just need to click on the settings cog and select your page under "Use Facebook as".
From here when you like pages it will be under your page and not your personal profile.  This allows you to like Facebook pages that are relevant to your niche.
When you go to Facebook's home page, you will now see a stream of all those pages that you liked. From here you can comment on other people's status updates. Thousands of followers will be able to see your comments and you should be able to get more followers free. Make sure your comments provide value and only link back to your Facebook page if relevant.
Another thing you can do is mention someone in one of your status updates. You can do this by typing the @ symbol (like twitter) and typing in the rest of their name. When you do this a note appears on the page of the person or company that you mention.
It is important that when you do this you are not being spammy as this will just turn people off rather than attract them to like you. But if you do it right your page will be exposed to thousands of people in return you can get more followers free..
Break It Down
Like pages as your page
Respond to other's status updates in your niche
Mention people in your status updates
Get More Followers free on Twitter
I just want to remind you that you are producing great content on your twitter channel, but you just need more exposure so that people will start following you. Here are some steps you can take to make your twitter account more visible and to get more followers for free.
The first step is to make sure that your profile picture is a smiling face.
Just like this :D
People are much more likely to follow you if you have a face rather than a logo.
However, if this doesn't fit in with your business' culture or you don't feel comfortable doing that, then don't compromise yourself for that reason. Instead, put your name in your twitter description, so that people at least can put a name to who is tweeting, and know that it is not just some automated service.
The next step is to use hashtags (#tag). When you use hashtags you make it easier for people to find you. And likewise, you can search for hashtags in your niche, and join in on conversations or find new people to follow.
You want to engage with people on twitter by typing their name with the @ symbol. When you do this most of the time people will respond to you. You can ask direct questions, or comment on tweets that they have made. You can also compliment them – as long as you are genuine. These are great ways to get people to notice you.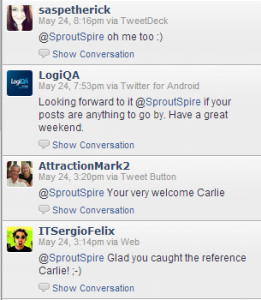 This is an image of some of the recent conversations I have had on twitter. By interacting with people I am building relationships, and these people are more likely to notice what I do and promote me to their followers. If we weren't following each other before, well, we are more likely to be doing so now.
Hope these tips will help you to Grow Twitter Followers Free or at least helping you to Get 100 Followers for Free in just few days (or less than week)
Not able to get more followers free on twitter? Then checkout our detail guide on how to get more followers free on twitter
Break It Down
Make your profile picture your beautiful face.
Utilise hashtags in your updates
Find relevant people and conversations using hashtags, and join in the conversation
Talk with people that you follow
Get More Followers FREE On Pinterest
The first step is to make sure people can find your pins when searching. When you are creating your pins on pinterest, make your descriptions descriptive, using the core keywords associated with your pins.
The next step is something not many people know about, but when you do it is going to blow your pins out of the water.
Pinterest actually has group boards. These are community boards where a number of people can post pins to them. You can tell if a board is a group board by a little picture of three people in the upper right hand side of the board.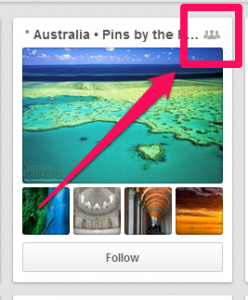 There is a huge directory of guest boards indexed. There are so many that you are bound to find several that are in your niche. Each board has a different method of joining (it is dependent on the board owner), and once you have been added to the board you can post on it to your heart's content. It will then hit all the people following that board which, depending on the board, will typically be in the thousands if not more.  After reading these tips, you should be able to Get More Followers FREE on Pinterest
Break It Down
Use keywords in your description to make your pins easy to find
Join a pinterest group and share your pins there!
Get More Youtube Subscribers
I personally think that youtube is making it harder and harder for people to discover new youtube channels within their website. It is easy to see what is popular but not so easy to see what is new. That being said, there are still many ways that you can promote your youtube channel so that you can get a ton of subscribers.
The first thing to realise is not only youtube a massive search engine, it also connects with google. What you want to do when posting your videos is to make sure in your title, description and tags you are including your keywords. That way when people are searching your video can come to the top on multiple search engines.
The next thing you want to do is share your video on all your other channels. Videos are popular. Share them on your facebook, twitter, pinterest, etc.
If you have a compelling title (to get people to watch) and a great video (to keep them watching) then other people on all these channels will share, like, pin your video – and because you have followed the steps in the other sections you already have lots of followers to your other channels.  If you have great stuff, people will subscribe to see what you do next. Apply these tips to How to Really Get More Followers FREE on Youtube!
Break It Down
Use a compelling and keyword-rich title and description
Share your video everywhere!
Compounding Followers
Hope you liked my tips and methods to get more followers free.
The first hundred followers are the hardest to get. But once you have a sizable following, it is easy to get more followers free – in part, your current followers will do the job for you if you continue to publish fantastic content to your social media channels.
If you are trying to get more followers free, let me know in the comments what kinds of things that you are trying; and if you already have oodles, let us know what you did in the beginning to get there. I'd love to hear your stories!