Search engine optimization is not an exact science, but mostly based on speculation about how search engines index and rank websites in the SERPs. Nonetheless, it is based on observations, trials, Google webmaster news, and other educational information. One of the most important aspects of SEO, which many Internet marketers fail to focus on, is internal linking.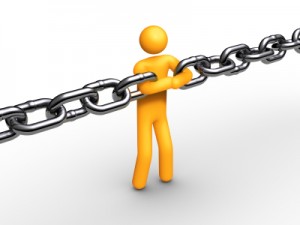 Why Is Internal
Linking

Important?

First of all, internal linking allows users to easily navigate from one page of a website to another. What many people do not know is that it also gives search engine robots an easy way to navigate through the site as well. When a web page has internal links, search engine robots can find other pages on the site and index them if they have not been indexed yet.

A lot of search engine optimization specialists say that external links carry more weight because they give your web pages more credibility. However, when you create a link that connects one of your web pages to another one of your web pages, you are giving your own site a vote of credibility as well. It is equally important, especially if the link comes from one of your high ranking pages.
The Process of Internal Linking
There are many ways to create links within your site. In your home page, you can create links within the content by choosing a keyword or phrase related to one of your pages. Use that keyword or phrase as the "anchor text" and link the related web page to it. For example, you can use the key phrase "affordable prices" as an anchor text that will link to something like your "Pricing" page.
You can also use the entire title of an article found on another webpage as your anchor text. For example, if you have an article entitled "The Pros and Cons of Using Premium WordPress Themes", use that as an anchor text. You can write something like "Related Articles" at the bottom of the page and type the title. Highlight the entire title and link it to the actual webpage where the article content can be found.
Final Word
If you want to optimize your website for the search engines, make sure to put equal emphasis on internal linking and external linking. If you have more external links that internal links, search engines may see this as an act of desperation to rank on the search results. Therefore, keep your internal and external links at par with each other.
 Ryza Royze is an Internet marketer and SEO specialist with over 5 years experience in both fields. She has been contributing 

search engine optimization

 articles to the SEO industry since the year 2007.