Who don't want to make the blog successful in short time?
Building real and strong network can help you to do so..
Building real connections with your target audience is very critical to the success of your blog.
However, building these relationships may be easier said than done for beginner bloggers. If you're looking for ways to attract unique viewers and maintain loyal readers, we're here to help.
Think of your blog as a party you're hosting. Very few important people will ever show up if you never attend parties hosted by other industry leaders.
You need to inform others that you want to connect with them by interacting with them on their blogs as well. Many blog owners will return the favor by interacting with you on your blog. You'll also get an increase of traffic from other visitors to that site who are interested in what you have to say.
How to Make Blog Connections That Work?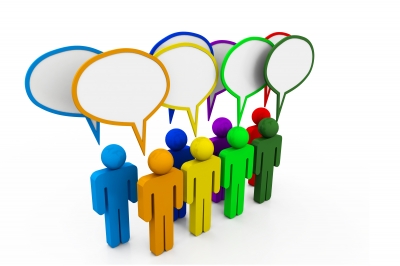 Many beginner bloggers have no idea how to make real blog connections to help their blogs succeed.
Well, in an effort to help you get the most out of your blog, here are some tips for you:
1) Leave Comments on Other Relevant Blogs
Search the web for other bloggers within your industry. Use relevant keywords to find popular blogs with content related to your niche, product or service.
Make a list of the various blogs you come across during your searches.
Visit each of these blogs at least once per week. Look for relevant, valuable blog posts.
Leave comments that will intrigue readers. This will encourage them, as well as the blog owner, to respond and reply to your comments.
Also, be sure to read comments left by other readers. Add your thoughts in your replies to these comments as well.
Don't forget to read :
2) Join Some Relevant Blogging Communities
Once again, one of the most effective ways to build real relationships is by connecting with other bloggers.
You'd be amazed how many are interested in connecting with you. When evaluating the relevancy of a blog, here are some things to consider:
Are the topics relevant to your niche or industry?
Is the business located in the same geographical location as your business?
Does the content have the potential to bring value to the lives of your readers?
Here are some tips for doing online searches to find relevant blogging communities. Use variations of the search terms below:
blog community (your city)
blog community (your industry)
blog community (SEO keyword)
3) Only Blog What You Know and Care About
Remember that blogging is about showcasing your skills and knowledge about a specific industry, topic, product or service. One of your blogging goals should be to provide content that profiles you as an industry leader. This requires knowing what you're blogging about… and knowing it well.
You also want to make sure that you blog about topics that actually interest you. Blogging can be pretty hard work sometimes.
It can be grueling when you're trying to create content about a topic you could care less about. Readers will be able to tell that you're not excited about what you've published. You'll also find that there will be many days when you simply don't want to be bothered with writing.
Just like any writer, you must have a passion for the topics you write about. If not, you'll lose interest quickly, and your blog will become dead.
Do you want to make your blog dead very soon?
Ofcourse, not! ;)
Oftentimes, those who start blogs solely for the purpose of increasing traffic, fall into this category. After just a couple months of blogging, they simply lose interest and stop blogging altogether.
When you blog about topics you're passionate about, this will shine through in your content. Your readers will appreciate the value your posts bring to their lives. To show their appreciation, they'll return to your blog regularly to see what new content has been published.
Many will also subscribe to your blog or RSS feed to stay up-to-date on all newly published content. Now, that's a way to build real connections to help your blog succeed.