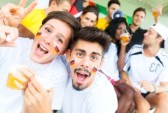 Wouldn't it be more awesome if your blog readership triples within a short period of time?
These fans can't seem to get enough of you and you love it.
If this is your goal as a blogger then I have to tell you this: you have to intentionally ignore and snub some people too.
Don't get me wrong, we all want a large and huge readership but the honest truth is you can't please everybody.
You have to make the choice now.
The goal of every blogger is to be appreciated by his target audience for the beneficial information he shares with them.
This comes in the form of comments, links, emails and increased social media presence.
I also have to tell you that writing awesome comment is just the starting point. After all there are thousands of blogs with good content that are not even known.
They key is placing your awesome and valuable content before the right people.
Your success and recognition as an expert lies in your ability to promote your awesome content effectively to your audience.
Therefore I want to show three people whom you should ignore if you want to create a band of raving fans for your blog and they are
1. Never Write For Yourself And For Your Understanding
Are your surprised?
Please don't be, this is one common mistake bloggers make when writing.
When I started blogging I was damn guilty of this mistake, I would write in such a way that I was the only one who knew what I was writing about, then I would wait for some glowing comments.
Unfortunately, I was ignored and I was so disappointed.
Here is an example.
I wrote a post on my blog on how to overcome crooked women before they waste your money and I shared it on facebook.
I then opened my site and guess what I saw?
A blunt and honest comment from a reader who said these words "MY FRIEND YOU HAVE NOT TOLD US HOW TO OVERCOME WOMEN BEFORE THEY WASTE YOUR MONEY" (take note of the capital letters)
I then took time to explain to him and then he replied with this comment
"Remember, you are not writing for yourself and for your understanding.
You are trying to pass a message to your audience so there is need to put in as much details as possible, so that even the least of persons can grasp your idea.
That's just what I needed from you."
If you are interested you can read that post here.
It dawned on me that I wasn't writing for them and if my reader could tell me directly I knew it was that serious.
Give them what they want in the right format and they would love you for it.
So writing for your beloved audience means you have to do away without ambiguous words, slangs that only you know of, clumsy paragraphs, bad spellings and poor headlines.
Your content must be properly formatted, good headings, bullet points and a good text format.
Obviously you should also seek to become a better writer who can write compelling content.
It also involves writing down detailed action posts by this I mean your readers know what to do after reading your post; you have inspired them to take action.
Don't leave your readers in a state of confusion when they read your posts, they need to know what to do the next.
So if you are no longer writing for yourself the next person you should never write for is…
2. Never Write For Google And SEO Purpose.
As bloggers we want more search engine traffic but not at the cost of our beloved readers.
When you write a post are you engaging in keyword stuffing? Are you going for a 5% keyword density and many other silly SEO tips?
It is your readers first before google and its awesome traffic.
Here is an excellent tip by Anita Campbell if you want to create a band of loyal fans.
Don't junk up your blog with poorly-executed attempts at SEO – Posts written mainly for SEO purposes are turn-offs to readers. You know what I'm talking about.
1. Shallow, vague and general content that I call fluff — offering little detail or telling the reader the obvious that he or she already knows.
2. Articles that repeat the same phrase in contorted ways just to work in keywords.
3. Articles that have 10 or 20 internal links (often to the same page with the same anchor text, over and over) and never link to any external sources.
Those are posts written for search engines.
Immediately I read this tip I removed too much keywords from my post, unnecessary heading tags to make sure it was readable because I was so guilty of this crime.
If you want more attention from your audience then you have to stop writing for google because your praise would only come from those you help and not from google.
Another mistake is the idea of pumping content always. The idea of "freshness" please doesn't allow SEO turning you into a content pumping machine.
You deserve something much worthwhile than that.
Create a pattern that suits both you and your readers and not the machines. Remember blogging is not a get quick rich scheme it takes time, patience and effort.
Think long term!!!
So if you want honour from people you shouldn't write for yourself or the search engine but there is also another set of people you should never write for.
Can you guess who?
3.) Stop Trying To Write For Every Audience On The Web
Let's be honest with ourselves.
Not everybody would be interested in your topic, so instead of trying to write for everybody, why not tailor your content to your audience.
When you read some blogs, they talk about personal finance today and then tomorrow about fitness and would later talk about blogging and online marketing later.
What a costly mistake.
You become fade up because they are not specific, they are trying to attract different audiences and in using each audience's language they only end up confusing them they more.
Lack of focus would get you nowhere on the web, make your blog unique from others.
You would never have a loyal audience of you keep changing topics indiscriminately.
I want you to sit down and discover your blogging passion, then focus on it with patience as long it is in a profitable niche.
Choose a topic and stick to it.
Be laser focused, if you have interest in other fields you can start another blog but please don't confuse your audience with irrelevant topics on your blog.
You can't be a master of all trades but you can become a well respected and recognized expert in a niche
So pursue what is possible because you don't have all the time in the world be wise.
FINAL THOUGHTS
People want to be helped and cared for, show them that you can do it and I promise they would you reward you for that.
But remember the secret lies in your ability to effectively put that content into their hands.
But if that content isn't well formatted for them they would ignore it so in order not to be disappointed you need to make sure that you are writing for them.
Therefore stop writing for yourself, for the search engines or people with different interests on your blog.
Keep to this and the loyalty of your readers would dramatically increase to your own surprise.
It's up to you, drop your comments and let the ABT members know what you think and how you are going to implement these tips to increase your blog readership.