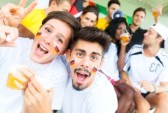 Wouldn't it be more awesome if your blog readership triples within a short period of time?
These fans can't seem to get enough of you and you love it.
If this is your goal as a blogger then I have to tell you this: you have to intentionally ignore and snub some people too.
Don't get me wrong, we all want a large and huge readership but the honest truth is you can't please everybody.
You have to make the choice now. …
3 Sets of Silly People Every Blogger Should Ignore For Engaged ReadershipRead More »