Who is not on social media these days? It's become a rhetorical question. From 80 year old Grandmas to 8 year old pre-teens, everyone's a part of the social media circus that makes marketers jump through hoops to control the reputation and engagement of our brands. Pew Research reports that about 73% of all online American adults are active on some social media or another. 41% of these use multiple social media platforms.
Social Media is Stealing Your Visitors
Even after being around for over a decade, social media shows no signs of a real slowdown. The time that people used to spend on other things like browsing through the web, visiting websites of brands they like, they now spend on social media.
Americans already devote the largest proportion of the time they expend online by networking with each other and brands they like on social media.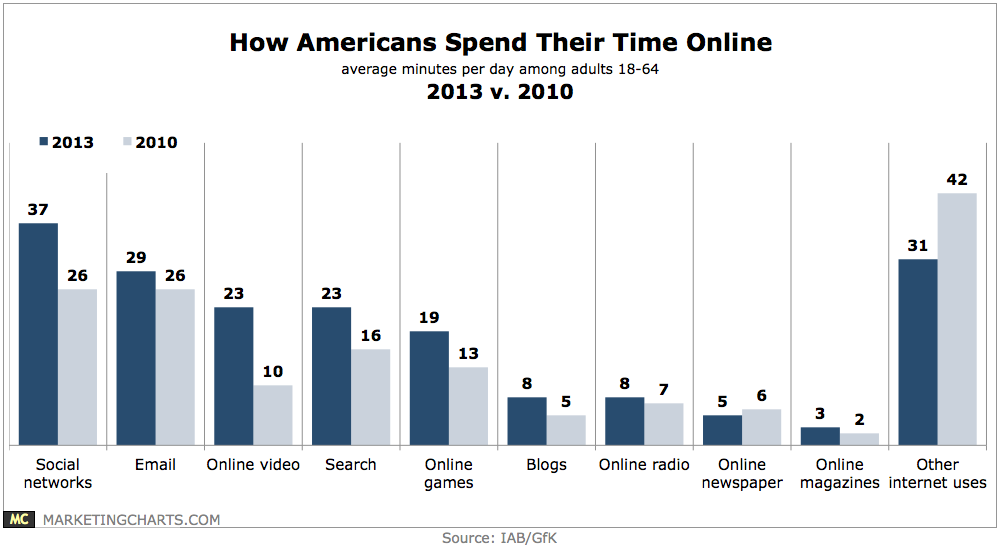 As Jeff Bullas points out, this social media frenzy seems to be coming at the expense of visits to corporate websites. Coca-Cola which has over 22 million Facebook fans, saw traffic to its site drop by 40% in under 12 months.
Your website is your own little piece of real estate on the web!
On your site, you have 100% control over what is said about your brand. It is your digital spokesperson who does exactly what you say and does not charge a dime. So why would you want to drive precious traffic to 'rented' properties like social media whose rules you have no control over? Why not drive these eyeballs to your own site where you can convert these visitors into actual customers?
Bring Social Media to your Website – Turn it into a Social Hub
No one can deny the pull of social media. However, you need to combine the attractiveness of social media with the flexibility of your own website by turning social media's strengths into traffic for your own site. Here's how you do it:
1. Host your blog on your website
A blog is step one in content marketing. Companies that have blogs also have 97% more inbound links than those that do not. If you are serious about reclaiming your content and making your website a social media hub in its own right, create a blog and post on it regularly.
A blog builds its own readership which is beneficial to your website and its conversions. It can also be the destination that hosts other content used on your social networks, so that you maintain an archive of all your content on your own web property, as against leaving it solely on social networks where you just rent space without owning the property.
2. Publish regular content on your website or blog
Create content that is shareable and publish it first on your blog. You can either put a teaser of this content or in some cases the entire content itself as a link on your social networks. The idea is to give away only enough to arouse curiosity, so your fans and followers head to your site or blog to access the real meat of your content.
3. Social sharing buttons on the site and your blog
Allow readers to share their favorite posts from your blog to their network on social media with social sharing buttons. Selling handcrafted jewelry on your website? Add a Pinterest button on the image and other social sharing buttons on the product listing to allow your trinket aficionado to share their find with the rest of their friends. Who would complain about some free publicity on social media after all!
4. Show popularity index of each post on your post previews
Once you start posting regularly on your blog, readers will have a plethora of posts to pick from. In your post previews, show the popularity index of each post in the form of 'number of likes' or 'number of shares' or 'number of retweets'.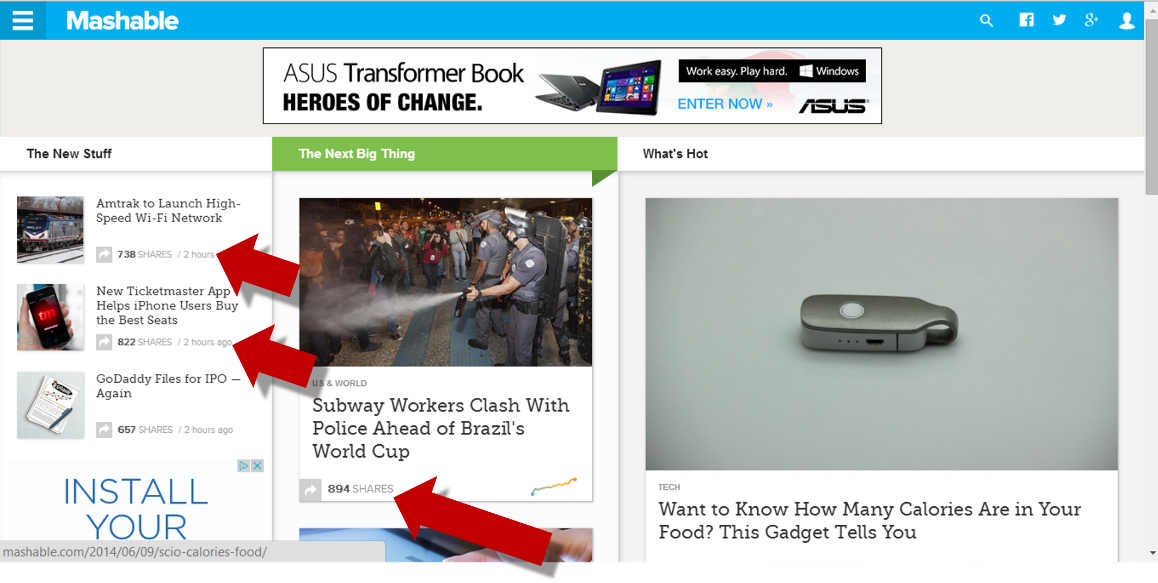 When readers see that a certain piece has been recommended highly by other readers they are more likely to read it, out of a fear of missing out on important information. They are similarly also more motivated to share it with their friends on social media. This simple action can give you a viral post with no extra hard work on your part.
5. "Come here for more!"
Great content can make people go to great lengths to access it. Once you have a repository of exciting, interesting content, use this as a hook to drive traffic from your social networks to your blog or website.
With every piece of content you publish, ask them to head over to your blog to get their hands on more such delightful content. The content you share on your site can be created by you; it could also be relevant content created by others that you share after receiving their permission to use it and attributing it properly.
6. Bring social to your login process
When you ask customers to leave a social network and head to your site or blog for more, it could be seen as an irritant. This is especially true if the user has to login to your site to access your premium content or share and comment on it. Avoid the hassle of filling up long winded registration forms that most customers balk at, by instead using social login solutions like LoginRadius that create a seamless transition between social media and third party websites.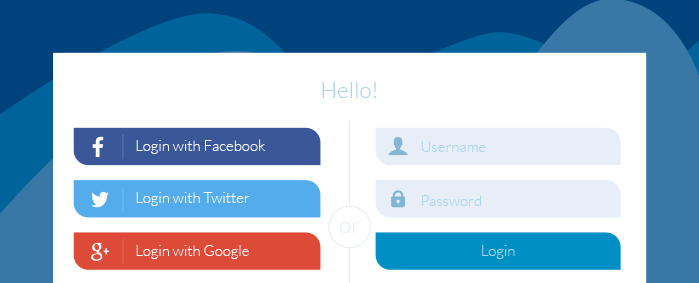 Social sign-on allows your users to log into your website using any of their social media IDs and with the correct implementation, it gives you access to targeted data that the customer shares on their social networks. This has the potential to become a win-win situation!
7. Create a vibrant community on your blog
Encourage interaction between your readers on your blog. Invite comments and respond to opinions of readers on your posts. Give back constructive feedback to your readers that will make them come back over and over again to your blog in times to come. Share valuable insights relevant to your readers exclusively on your blog, making it a sought-after destination for users in your industry.
Allow comments on your blog via social networks – this makes it easier for the reader to comment without creating an account with your site first. The comment will be flashed on the timelines of the readers' friends on their social networks, giving your original post more visibility in the process.
8. Send email alerts whenever you create new content
Remember to touch base with your newsletter subscribers whenever you have something informative or interesting. The idea is to draw traffic to your website by all means possible. If you have been capturing and nurturing an email database, put it to good use by informing customers via email whenever you have new content for them on your blog.
Make sure you include a teaser or preview of your content in the email to pique their interest and make them click through to your website. My friend Tracy Vides has put up some excellent examples of email marketing on Steamfeed that will help you get started.
Over to You
Your corporate website allows you to showcase the best side of your brand, without any outside filters or negative inputs that may color the opinion of a visitor. It is your brand's face on the web and is something that you probably have invested a lot of money building and driving traffic to via SEO, Content Marketing, PPC, email marketing and more.
Add social media to this list of tools that you use to grow your website's online reputation. Engaging with fans on social media is great. But getting them to land on your site and actually buy from you is even better. A social media hub is an idea whose time has come.
Don't wait for your competition to beat you to it. Go ahead and do build your website into a social magnet!